The previous article on Brushes & Drafting went into the basics of how brush assets will work and where they'll be stored. Now we'll delve into how brushes will be accessed, tweaked and authored.
Asset Shelf
This will be the new region to immediately access any available asset. The slim horizontal space at the bottom is ideal for visualizing enough brushes and catalogs for any given task.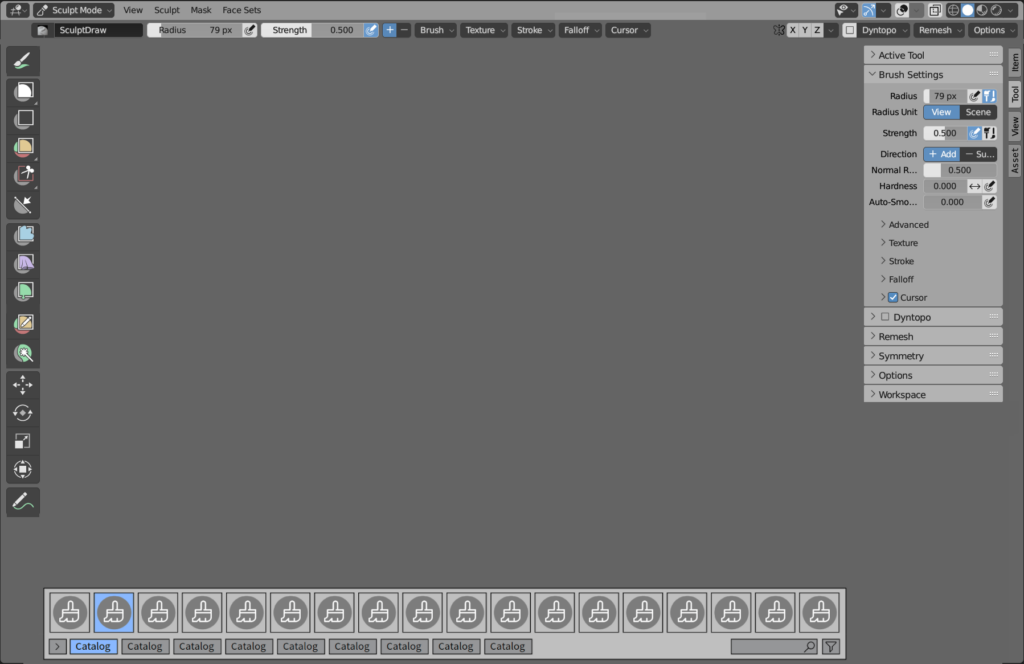 And just like any other region:
Its size will be dictated by the user and the amount of content within
Its visibility can be toggled if not needed

As the name implies, this region would potentially be used for any assets in any editor. Poses, Nodes, Objects, Materials, Textures and more can eventually be used from here.
This will also respect valuable space in the toolbar and sidebar for tools, properties and add-ons. Meanwhile, the Asset Browser will remain the editor to organize and browse any & all assets.
Tools vs Brushes
A key improvement is to make the relationship between tools and brushes in the UI clear and more accessible. This is accomplished by directly displaying and assigning shortcuts to brushes, instead of doing this via tools in the toolbar.
For context, until now the user technically doesn't pick brushes. Instead they pick "Tools", either in the Toolbar or via shortcuts. "Brushes" are instead saved presets of the tool settings. This way you can have multiple variations of a single tool.

Unfortunately this makes it very hard to access brushes. Also, categorizing and sorting them in this predefined way quickly becomes counter intuitive when creating & using a lot of them.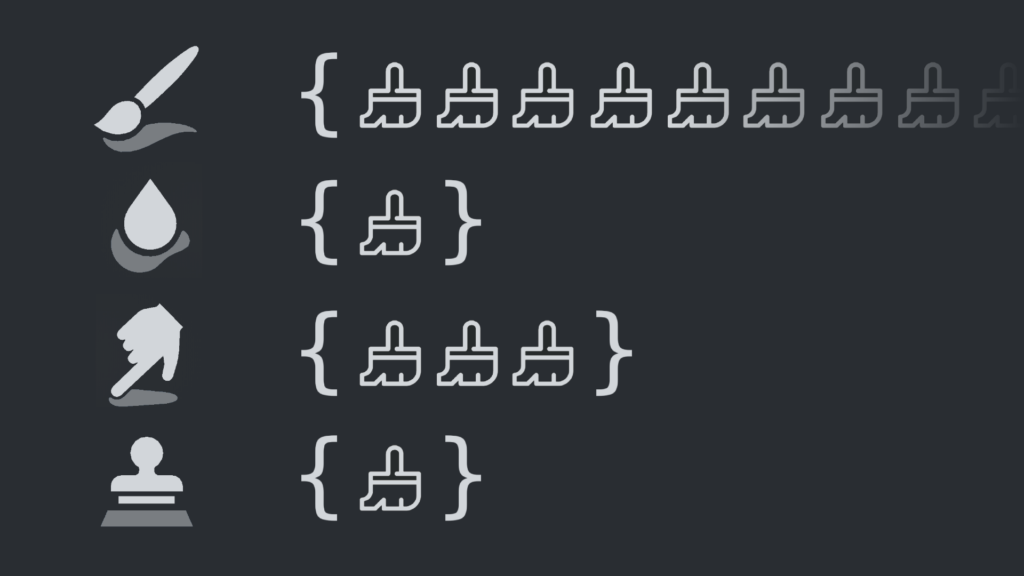 Brushes will be put into the forefront again. All tools in a mode that contain brushes will be merged and the type of brush will instead become a brush setting, just like any other.
Brushes will then be accessed directly in a "global palette" via the Asset Shelf or via shortcuts.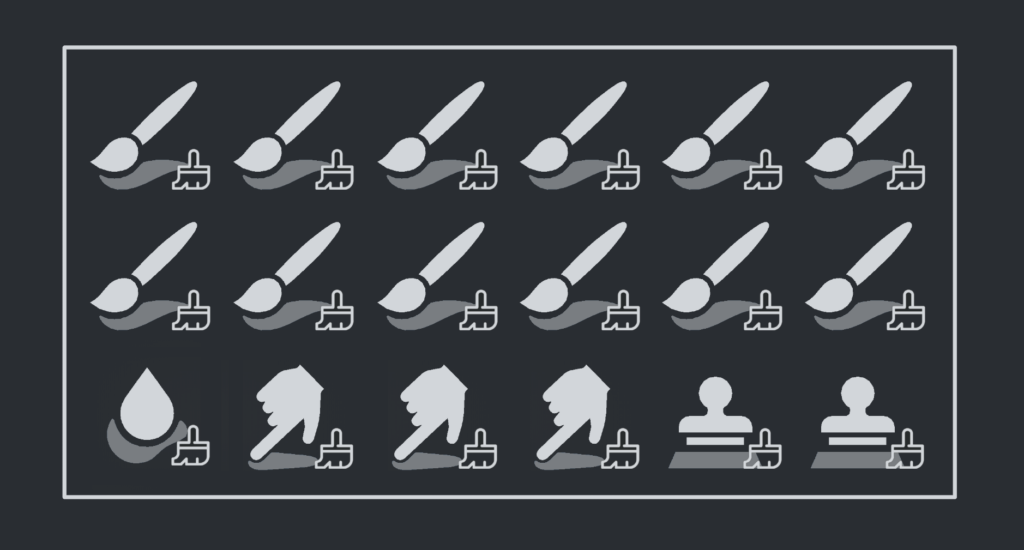 Only What You Need
Proper scalability of the Asset Shelf will make it intuitive to access any brush among potentially hundreds of them. This can be achieved with 3 ways:
Compact Display
The goal is to comfortably show up to 30 brushes on screen at a time and intuitively navigate to see more. This way most screen space is still available and the brush thumbnails will remain readable.
Sculpt Mode for mesh objects alone will have up to 80 brush assets shipped with Blender. This will ensure that all commonly necessary brushes are available by default. On top of that it's easy to see how the amount will skyrocket with user created assets and shared assets. But even with this huge library of brushes, it's not needed to see all at once.
Quickly searching for a specific brush via typing is also important functionality and will be available from the Asset Shelf directly.
Custom Catalogs
Sorting & categorizing brushes will be done with Asset Catalogs. By cataloging brushes the user can define which set of brushes to display at a time.

To make this even more customization there will be "Dynamic Catalogs" as well. These catalogs essentially act as "smart filters", so brushes can appear in multiple catalogs at once. For example any brush that is tagged as "Favorite" will appear in the dynamic catalog called "Favorites", no matter what other catalog they belong to.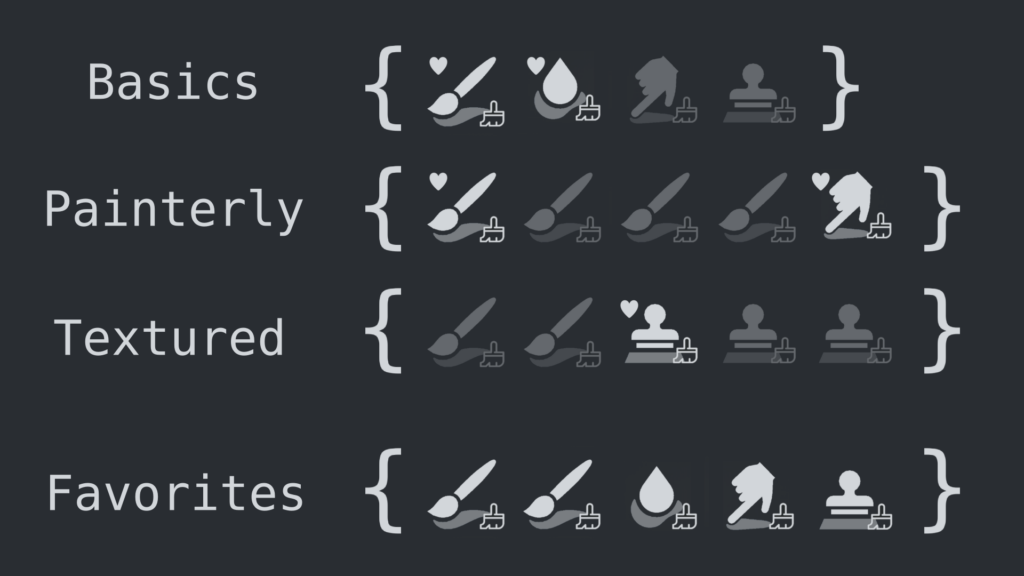 To make sure all brushes are still at your fingertips, the Asset Shelf needs to be able to comfortably show up to 12 catalogs at a time.
Explicit & Implicit Filtering
You should only ever see what you need. This will be accomplished by:
Automatically hiding brushes that cannot be used in the current mode or settings
Automatically hiding catalogs that do not contain any visible brushes
Allowing users to manually hide specific catalogs from the workspace
Editing your Brushes
A Brush Asset has a certain life cycle. It is created from an existing brush asset, is used, tweaked and drafted along the way, and eventually saved as a new Asset that can be shared with others.
Each of these steps need to be at your finger tips, without getting in the way of others. Drafting will be the key to editing your assets for both daily use and asset authoring.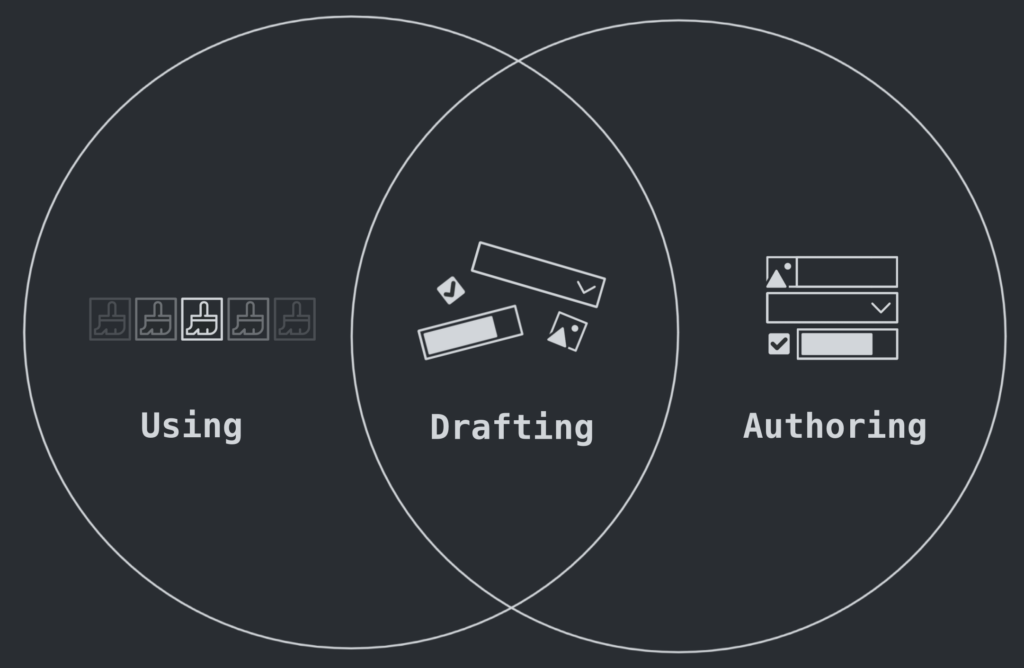 Using brushes must be straightforward with a clean user interface. In the long-term the tool settings will only show "cherry-picked" brush settings, to expose only what is actually needed.
Drafting, as in extensively editing a brush, is expected to happen regularly and deliberately. The full expanse of brush settings will be quickly available in the sidebar and any changes can be saved to the asset as a draft.
Authoring can be compared to publishing. It's when you package your asset for further reuse and sharing. This is done in the asset browser, in the asset library .blend to finalize Assets for others to enjoy.
Next Steps
The first target is to apply this design on the Pose Library, to properly test its usability and user interface. The Asset Shelf design will evolve further from there. Brush Assets will come after, starting with the Curve Sculpt Mode brushes.
Support the Future of Blender
Donate and support Blender Foundation to work on core Blender development.