The upcoming Blender 3.5 release now provides a Metal GPU backend on macOS builds!
Next to Metal-accelerated computing in Cycles, it is now possible to enjoy improved EEVEE viewport (and UI) performance as well. This functionality has been in the works for a while, and it can be enabled through Preferences.
Currently, the default backend is still OpenGL, but the goal is to switch to Metal after a period of testing and feedback.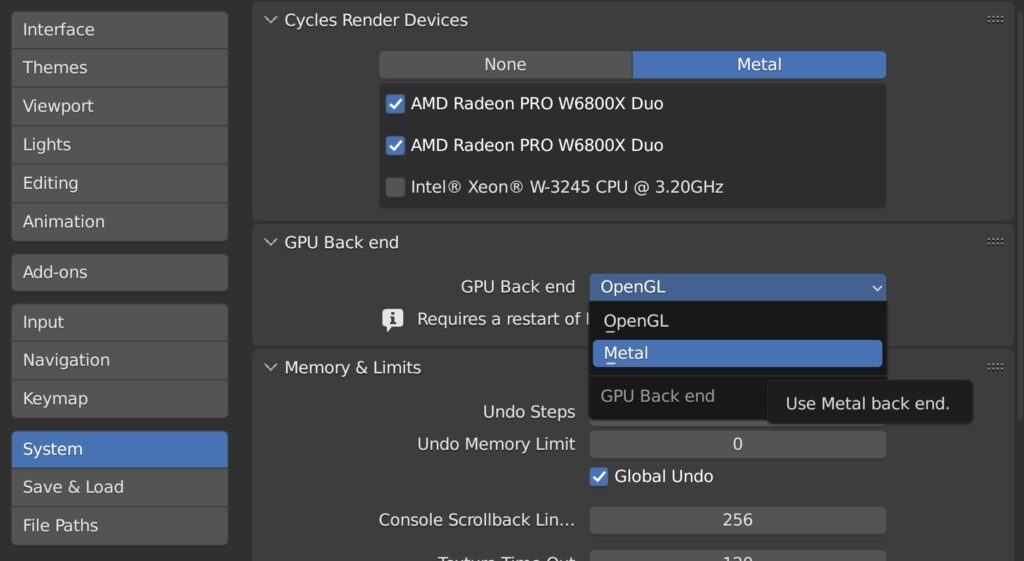 Around one year ago, after joining the Blender Development Fund and seeding hardware to Blender developers, Apple empowered a few of its developers to directly contribute to the Blender source code. The contributions started with Metal for Cycles and then continued with Metal as a GPU backend, for EEVEE, and the UI system. The goal of these contributions is to provide the best Blender experience on Apple hardware, as Blender is moving on from OpenGL.
---
Benchmark
Here are the results of some benchmarks, performed on a MacBook Pro laptop with an M1 Max chip.
Render CHARGE – 010_0050.lighting on M1 Max
0
60
120
180
240
300
360
420
480
540
600
Render time (lower is better)

Unit: Seconds
Render Tree Creature on M1 Max
Render time (lower is better)

Unit: Seconds
Render Amy on M1 Max
Render time (lower is better)

Unit: Seconds
Playback Speed on M1 Max
Frames per second (higher is better)

Unit: fps
The render benchmark was run in two different scenarios. Cold-start means that no shader was pre-compiled or cached before rendering, this happens when rendering a frame for the first time. Cached means that the frame was rendered at least once before.
Following is a playback speed test of the Tree Creature file, performed on a Mac Studio with M1 Ultra chip.
Frames per second (higher is better)

Unit: fps
Ongoing work
Besides bug fixing, a few patches to improve support of AMD and Intel graphics devices are expected to be merged. Next to that, the main target is to introduce support for the upcoming Real-time Compositor (in the 3D Viewport), which is currently not available on macOS. The progress can be followed on developer.blender.org.
Note for add-on developers
Even though the bgl Python API still works in current releases of Blender, it has been deprecated in favor of the gpu API. The upcoming GPU backend changes (both Metal and Vulkan) do not support the legacy bgl API.
If you are developing add-ons with custom drawing code, make sure you are using the gpu API.
Testing and feedback
The new backend is ready for testing! If you are using Blender on a Mac, download the daily alpha build from builder.blender.org and give it a try. In order to enable the Metal backend, open Preferences (Cmd+,) → System, and select it from the options available. Please report any issues on developer.blender.org.
---
Congratulations to Michael Parkin-White, Vil Harvy, Marco Giordano and Jason Fielder at Apple for this contribution, and special thanks to Clément Foucault and Jeroen Bakker for reviewing and coordinating such a large project.