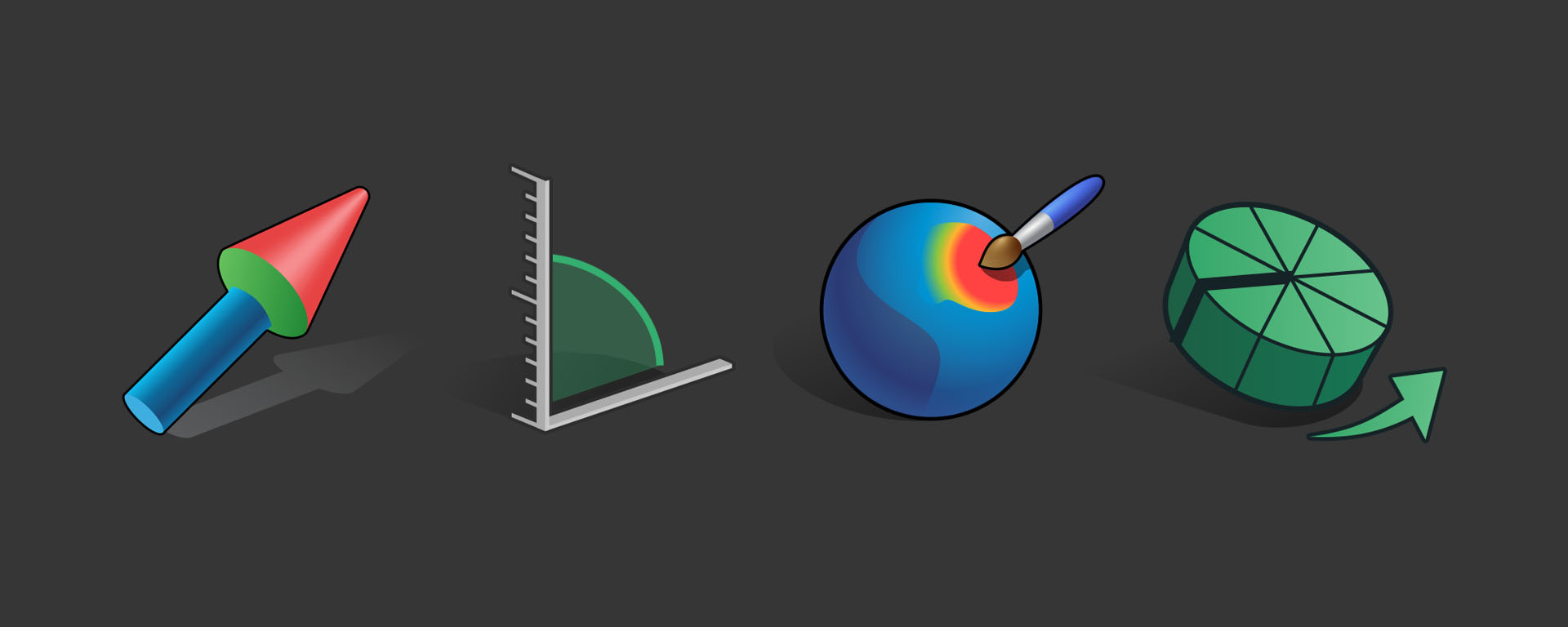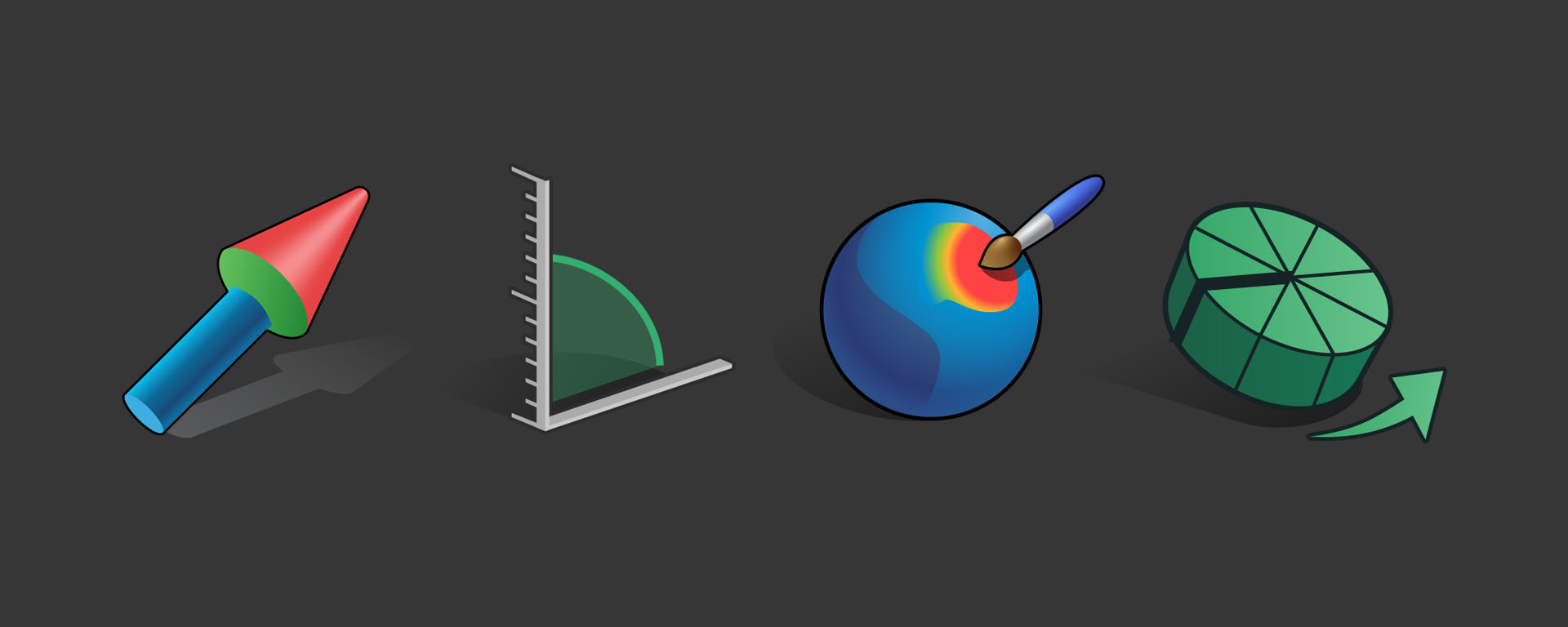 As many of you might already have seen in the daily builds of Blender 2.8, we have been working on a new toolbar and widget system for Blender. I thought it would be a good idea to tell you why, and what our plans are.
The Goals
We set out with a few goals that we wanted to achieve for the tools & widgets:
We want more consistency across the various Blender modes.
We want to allow for manipulator widgets for many more tools – not just for Move, Rotate, Scale.
We want to make it possible to use Blender in a more visual way, not just via shortcuts.
We want to sweat the details, and set a higher bar for the fit and finish of the tools interface. Using tools should be slick, gratifying and pleasant.

Very important: We are committed to keeping Blender's efficient keyboard-focused workflow.
The problems
As many people have no doubt experienced, our old toolbar never really worked well. In Blender 2.79 and earlier, try and hit the Translate button in the toolbar to move your object. It basically doesn't work, because it immediately starts interpreting your cursor movement as input, and so you can't move objects to the left. Same goes for many of the other tools. We want to fix that.
We also have been lacking consistency in how we tackle the kinds of tools that users want to stay active, such as Grease Pencil tools, Sculpt tools, Paint tools and so on. These have been working in various different ways that were incompatible with one another, and we would like to unify and streamline the way these kinds of tools work.
The old toolbar used up a lot of screen space. We want to make sure that the UI chrome always defers to the user-created content, and doesn't take up unnecessary room.
The Design
We've landed on a design which doesn't disrupt Blender's beloved hotkey-oriented workflow, while still allowing the use of widgets for many tools. We are building something that can work in a consistent way in all of Blender's modes, and we will have a toolbar that is both slimmer, while being more communicative.
Here's a sneak peek of what we are working on:
Here you can see the new toolbar vs the old one. The new one is simpler and takes up much less screen space. The old toolbar mainly replicated commands that were already present in the menus, and most of it was not necessary.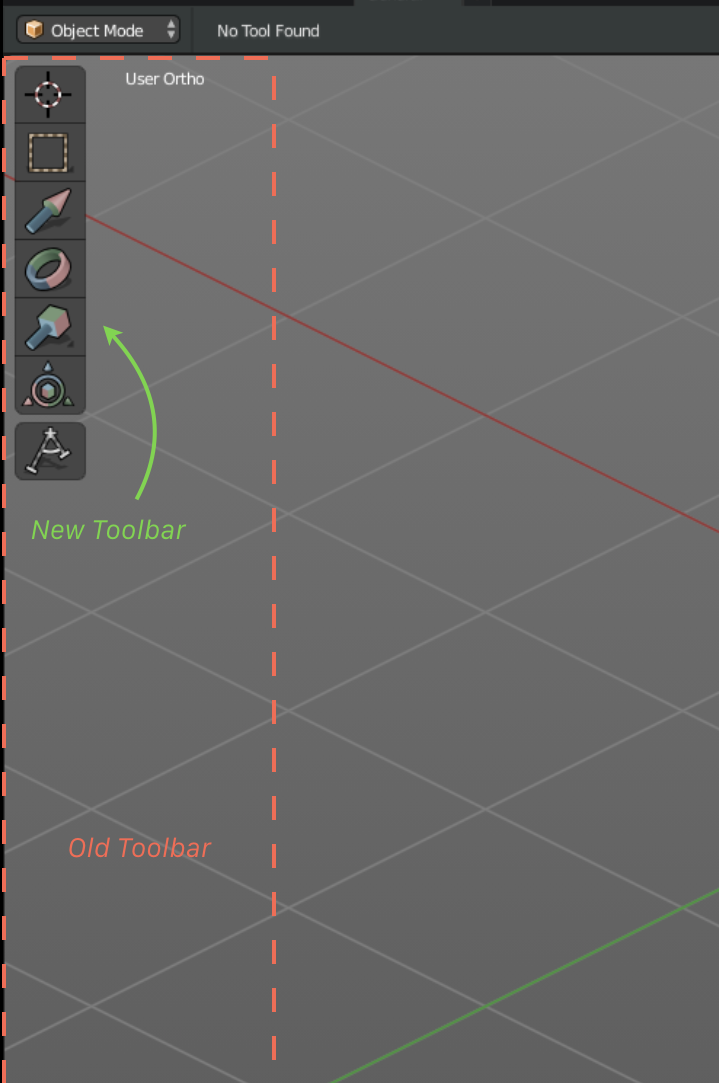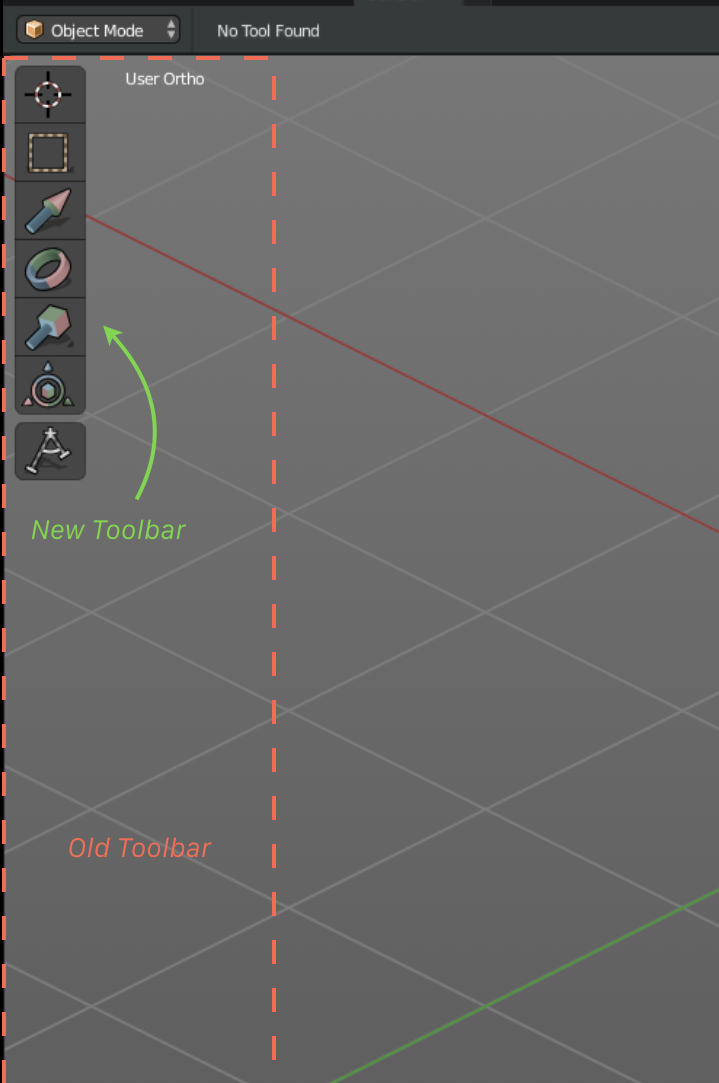 As you can see, we have a way to either display the toolbar as a single icon row, as a dual-column row, or as icon+text: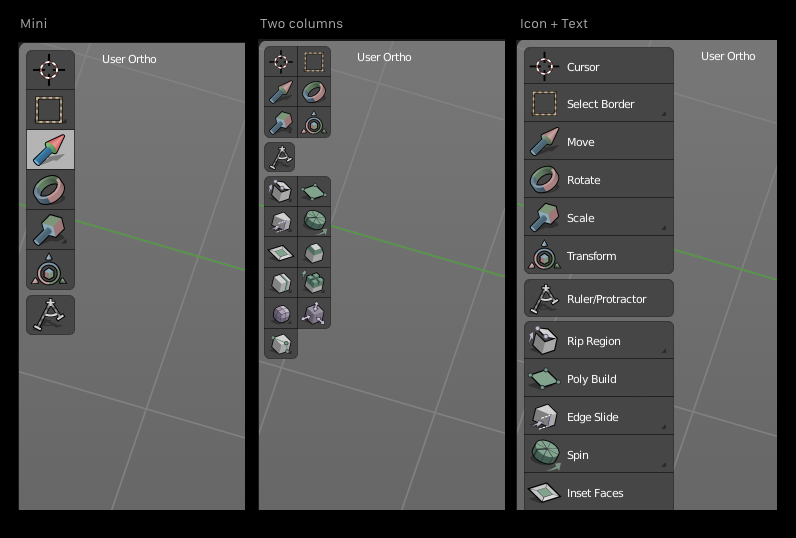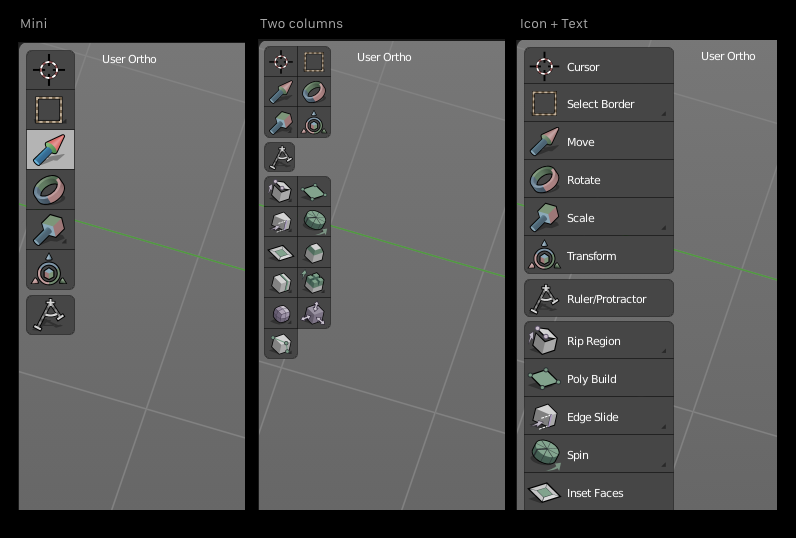 Here are a few examples of the toolbar in various modes: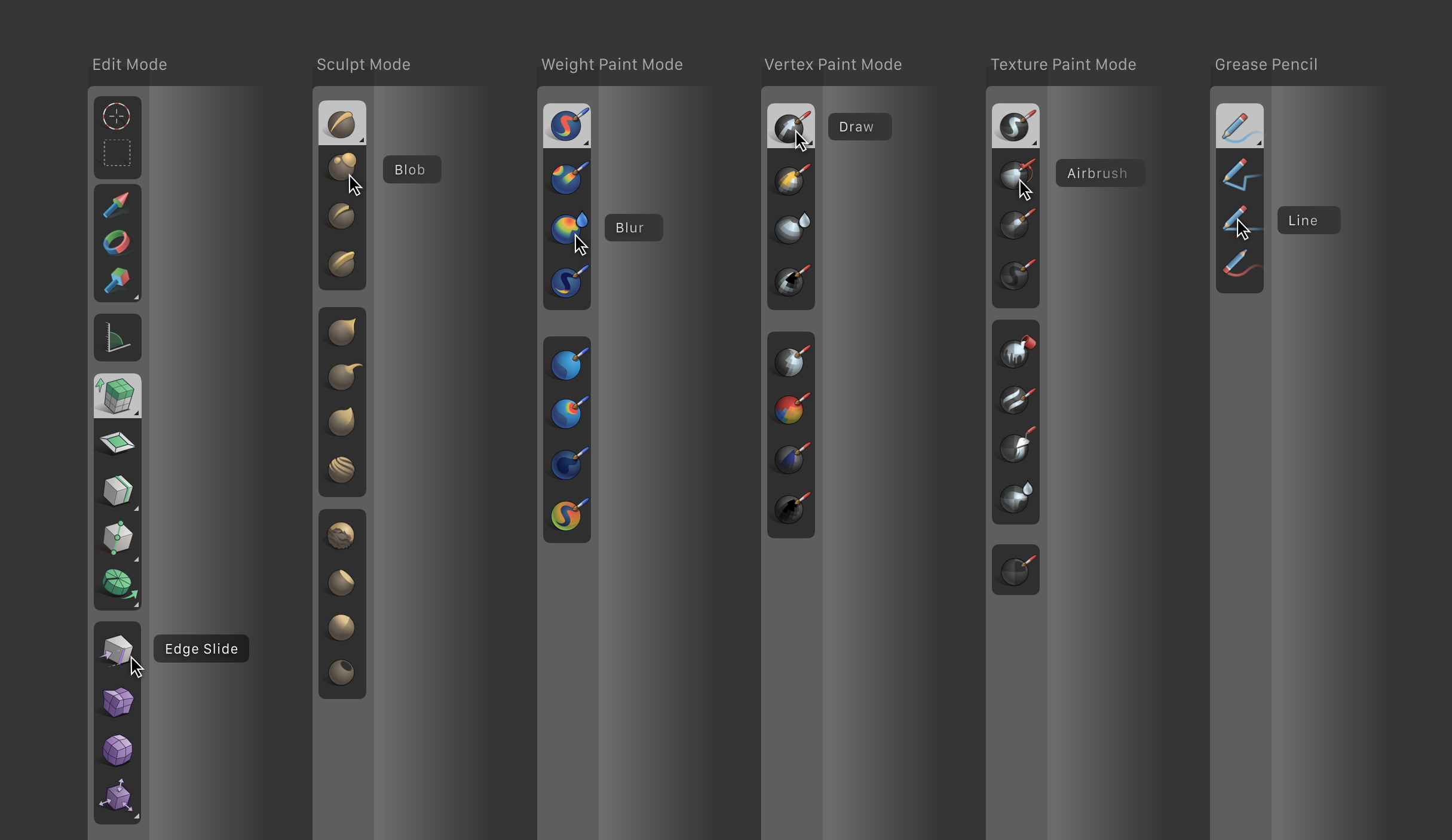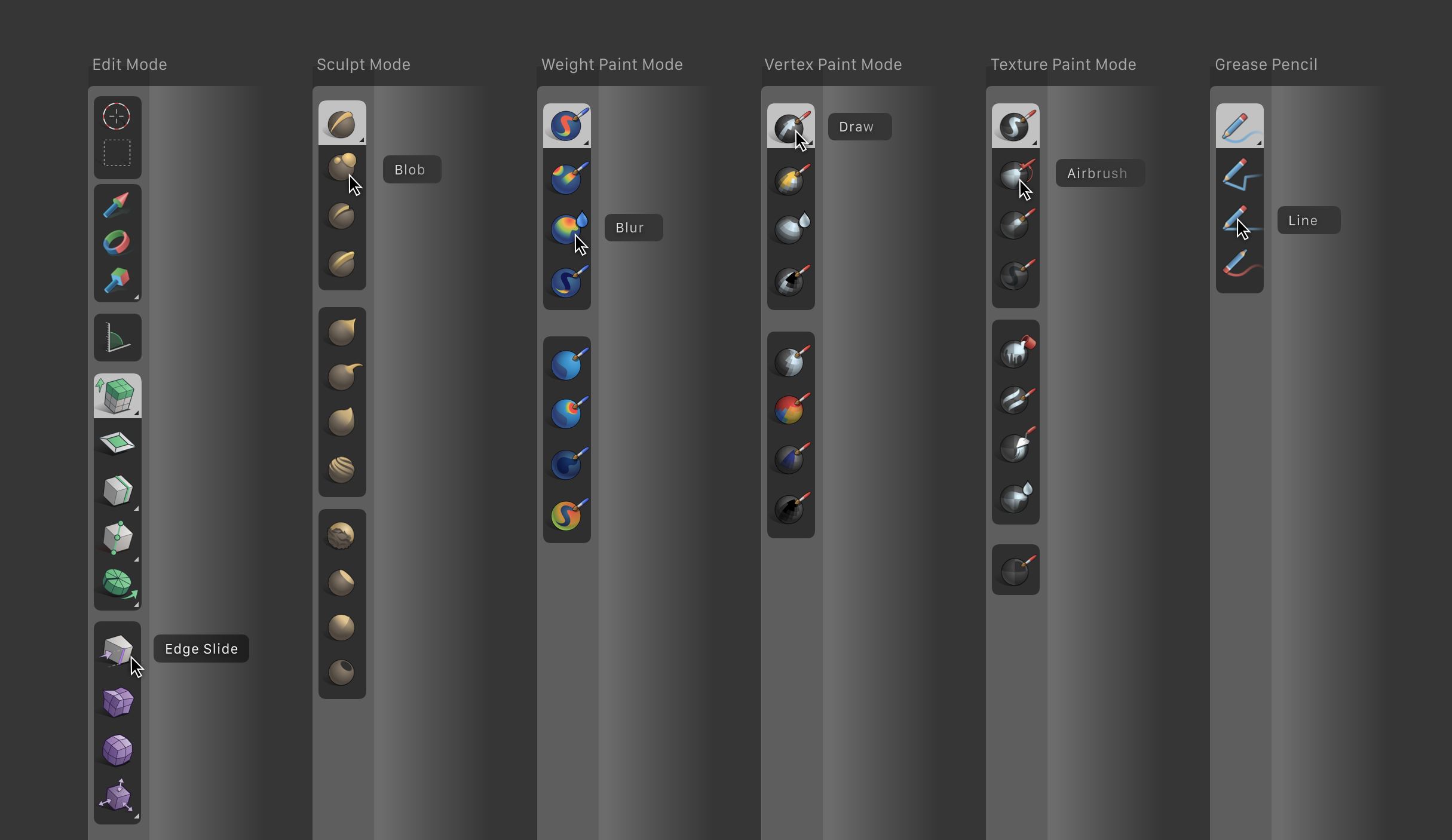 Icons designed by Aslam Cader
Technical note: the side bar is still a complete region in Blender, which is being drawn transparent here, but it can be made solid as well to give a different looks.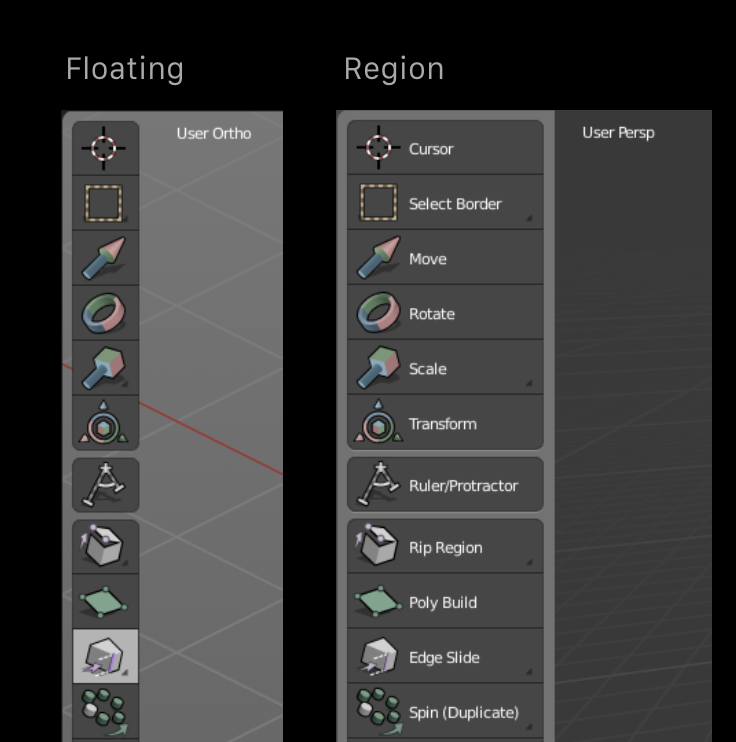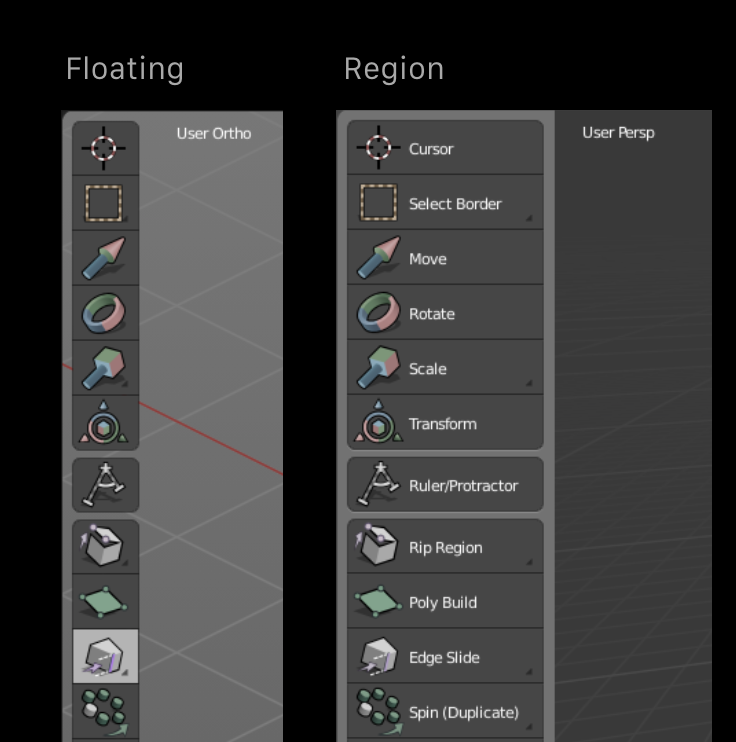 The tool settings are now in the top bar. This has many advantages: It allows us to have active tools in more than just the 3D View, and it can still keep working even if you hide the toolbar completely. Here are some examples of the top bar with various tool settings:



A few examples of widgets we are working on for various tools: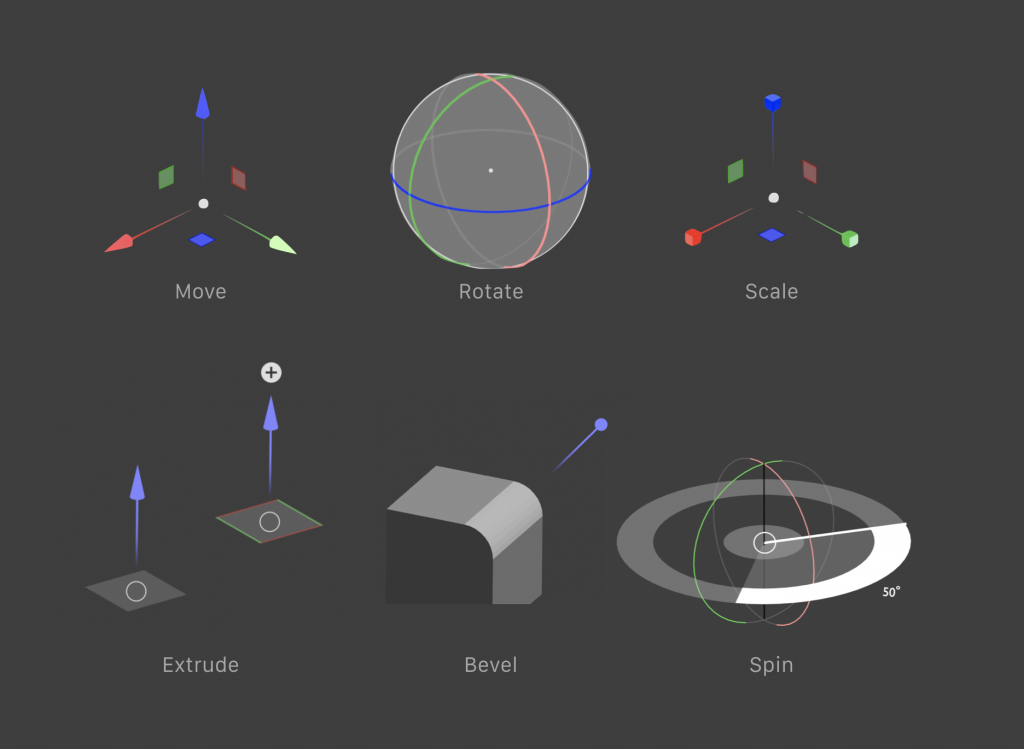 We are still working on it, but we feel confident we can build something that is consistent, easy and delightful, while not hampering or conflicting with the Blender's famous hotkey driven workflow.
Most of the development work is being done by Campbell Barton, who knows Blender's tools and code in and out. Icons are designed by Aslam Cader, and I am working on the user interface. We are very excited about this project, and we all can't wait to finish this stuff so we can give it to you, our users.
Cheers
William Reynish
Important note: Blender 2.8 is work in progress. What you see in the daily builds of Blender 2.8 is not finished. Many parts are still half done or not done at all.