At the end of the Code Quest we will have the first Beta release of Blender 2.8. And to get there we now have an internal plan for the weeks to come (click on the image to see):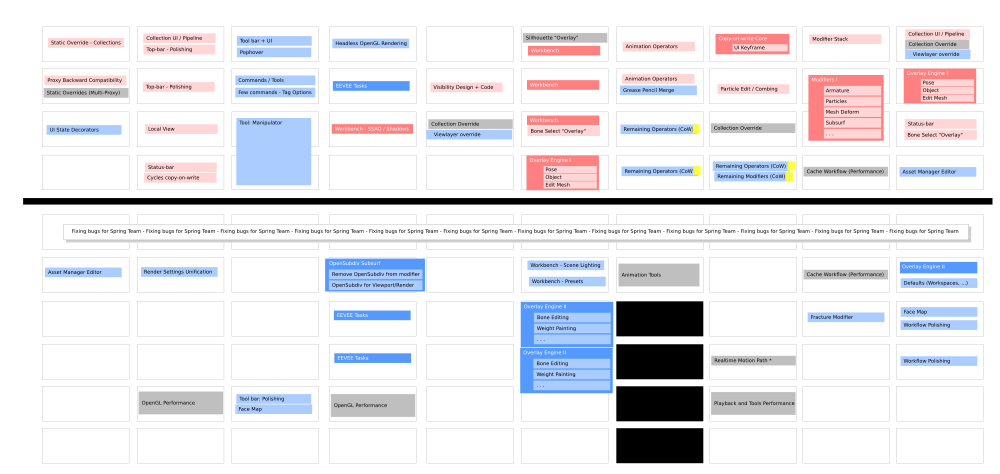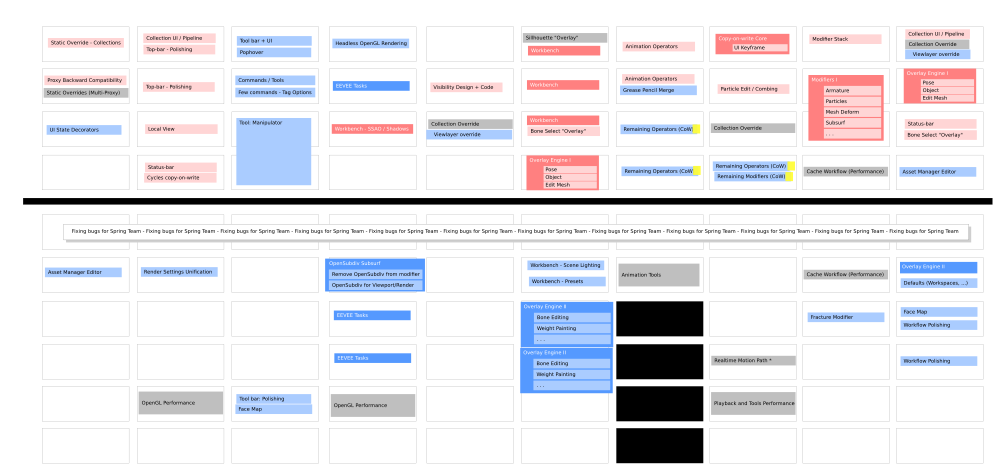 As you can see we have red, gray and blue tinted tasks:
Red are the bare minimum before the Blender Animation Studio can migrate to Blender 2.8 – which will happen in the week of the May 21st.
Gray are the tasks that would make the animators of the Spring project thrilled to migrate to 2.8.
Blue are tasks not directly linked to the Spring project needs, yet relevant to the 2.8 project.
What is not included there?
Multi-object editing wrap-up (pose, mesh edit).
Copy-on-write wrap-up (modifiers and operators).
Everything else that is part of 2.8 yet can't be finished during the code quest.
This is not a strict week-by-week planning, but a big picture to help split the projects into developers and evaluate the workload. For instance, the reason Bastien and Campbell have few red tasks is so they can assist the modifier conversion and the overlay engines implementations.
Although this is the plan for the Amsterdam team, people all over the world are helping the project. To name a few: Mai Lavelle is involved with the modifier conversion, Julian Eisel is still on top of the top-bar even after his short stay here, Antonio Vazquez is working on the migration of Grease Pencil, Aslam Cadr is helping with tools icons.
Besides, the multi-object task force is ongoing with the contribution of a few developers already. More tasks forces will be announced soon, so we expect more people to be involved throughout the remaining of the project.
This also doesn't include the work performed by Pablo. He is involved in the design discussions but he is also busy with recording and community engagement. Speaking of which, he just published the videolog #3 , check it out.