Goodbye 2017
It's that time of the year again. And what a year! Blender 2.8 is shaping up and made ready for use in daily production in a Blender open movie.
Early in the year, we started sharing a daily build of 2.8 with all the latest changes. That lead to a great response by early adopters who embraced the potential of a real-time engine such as Eevee in Blender. We saw that in the demo we had at Siggraph, as well as the constant sharing of images and videos in social media.
We also added a 2.8 hub on blender.org. A page where people could learn more about the 2.8 project. If you haven't visited it, go check it out. You can find all the Siggraph demo files, as well as videos, documents and everything that is 2.8 related.

A beta is expected in Q2 next year, and we expect newcomers and seasoned users alike to adopt the new Blender 2.8 workflow in their pipelines. Meanwhile, Blender 101 will follow close with a proof of concept for 3D printing, and educational use of Blender.
But enough about the past. Let's see where we are now.
What do we have?
Eevee
One of the most noticeable features of 2.8 is Eevee. This real-time engine has been tightly integrated in the Blender viewport. Eevee supports all the fancy lighting and rendering features that's common in modern 3D games. It already features:
PBR – Physically based rendering
Subsurface scattering with translucency
Screen space effects
Volumetrics
Filtered shadows
Reflection and refraction
Light probes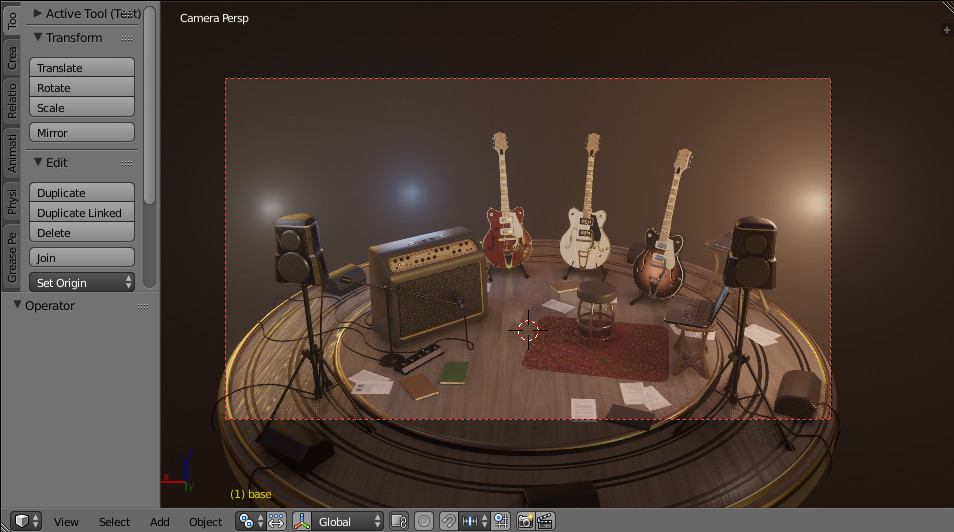 Guitar stage by Davide Tirindelli.
Layers & Collections
To organize Blender Scenes we have a new view layers and collections system with unlimited number of collections, supporting hierarchies and per-collection visibility control.


Blender 101
The 101 project (enable to configure Blender into special purpose applications) debuted with template support, tools, and custom manipulators. In the following proof of concept video you can see a Blender with:
Intuitive navigation widget
Click based modeling tool
Ruler system
Scaling cage
Grease Pencil
The 2d animation pipeline is vastly improved. You can read all of its new features in the previous post. This is a branch on top of Blender 2.8 to be merged before the first beta.
There is even an open project whose primary goal is to make sure grease pencil is production ready for 2d animation. Follow Hero's progress in the Blender cloud.
Overrides and Depsgraph
Static overrides are now part of Blender 2.8. This is the first step to replace the proxy limitations and allow any datablock to be linked, and have unique local properties. This is an important feature that should slowly make way into everyone's pipeline.
Also implemented under the hood is the new dependency graph. Its benefits are still invisible to the end user but we got per-view layer dependency graph and copy-on-write working. Copy-on-write already allows to have the same scene in multiple states, each one with a different frame, or level of detail. Per view layer dependency graph brings maximum playback performance and will allow for different dynamic overrides per view layer.
Known issues
Despite all the exciting things built and working, there are plenty of areas that are buggy, or not in their intended final form.
We have a myriad of driver related issues because Eevee is not working in your favorite GPU setup. We won't be able to prioritize this before the very end of the project.
Performance is another big issue. If your graphic system doesn't support cached shaders you will struggle every single time you open your heavy Eevee files.
Modifiers are not supported yet. The new dependency graph is still ongoing a lot of changes, and modifiers as well as tools are not available yet.
How about the interface?
Multi-window is not supported
The collections have a new design yet to be implemented
Workspace doesn't have modes as originally intended
Scene and workspace engines settings need to fit side-by-side
Top bar and workspace specific keymaps and add-ons are postponed targets
Manipulators and tools are also postponed but will be around as an API for add-ons
There is more:
F12 render is not working for Eevee or Clay
Workbench engine and the overlay modes still need a final design
A long backlog of bugs
What is coming next?
For those of you living in the north hemisphere, Winter is coming, followed closely by Spring. The new open movie project will start using the Blender 2.8 branch before and after the first beta is out.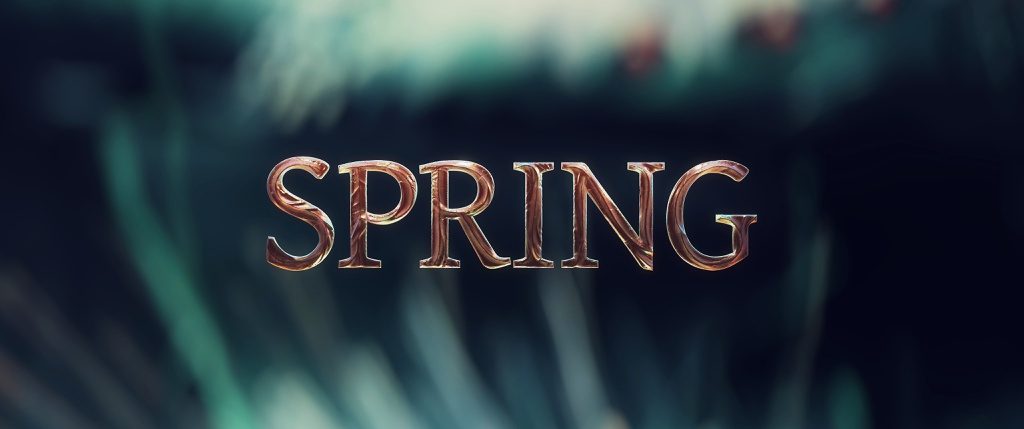 The main focus of Blender 2.8 is workflow. So instead of working in a set-on-stone design and implement it isolated from the real world, we will do the tried and proved open Blender way. The Spring team is committed to use the new features as well as the partial implementations every single day for the whole project.
This will be documented to make a workflow guide. Assisting Blender users migration to Blender 2.8.
But aside from what Spring brings and polish, we have a feel features yet to come:
Modifiers
Dynamic overrides
Proxy pipeline for static overrides
Asset engines
101 3d printing application template
A different current frame per dependency graph
Welcome 2018!
There is more to Blender 2.8 than the projects mentioned here, and there is more to Blender development than the 2.8 project. So expect more interesting projects throughout this year.
None of this would have been possible without the generous support of the Blender sponsors. To the industry partners, the development fund subscribers, donators and the blender cloud supporters, thank you.
We would like to invite everyone to the upcoming beta later this year. Stay tuned for its official announcement. Or join the early adopters wagon and keep sharing your work and your impressions where we can find it.