With more and more EEVEE demos popping up in the internet, it comes the time to shed some light into what is the Blender 2.8 EEVEE project and what is possible with it.
How can I use EEVEE for my Cycles project?
Even if you plan to use Cycles for your final render, EEVEE is still a valuable asset during your production. Animators can work with fully textured characters, see contact shadows and reflections. Layout artists can design a shot with lighting and depth of field. All in a responsive real-time engine.
Additionally, other tasks can use a full-shaded drawing, like texture painting and sculpting. In that sense EEVEE is very similar to the old Material viewport shade mode.
Is EEVEE a complete render engine?
Yes. One of the goals of EEVEE is to replace the Blender Internal renderer with real-time rendering techniques. There is work to be done, but EEVEE already supports rendering still frames, animations, compositing and sequencer.
In its early days of development you could only export your work with the OpenGL render, or screen capture software. But since now EEVEE got integrated with the rendering pipeline, you can expect more high-quality demos to appear online in the coming months.
Can I use Grease Pencil objects with EEVEE?
Yes. The Grease Pencil developers are working on top of the latest blender 2.8 changes, updating the Grease Pencil branch on a daily basis. The upcoming Grease Pencil objects are rendered as part of an overlay pass very similar to Freestyle. And just like Freestyle, they are fully compatible with EEVEE. Effects such as bloom, depth of field and shadows on Grease Pencil objects are not implemented yet.
Does EEVEE support animation?
No, since Blender 2.8 has no animation support yet. However, this is coming very soon. Animation support is currently under development, available for testing via the command-line option --enable-copy-on-write
So, with the exception of the video above, most of the EEVEE demos to date are using camera/object motion only, not skeletal/character animation.
Which Cycles material nodes can I use with EEVEE?
All the material nodes are supported with the exceptions of Velvet and Toon. The most popular choice for shading is the Principled BSDF node. This is in part because of how "PBR" friendly this node is. Game artists are already familiar with the PBR workflow thus making it straightforward to setup good-looking materials with existent PBR textures (albedo, metallic, …). Using this node gives you a pretty close look when switching from EEVEE to Cycles and vice-versa.
What is a Light Probe?
Light probes are a new object type that allows you to simulate the environment reflection on your objects. This is a technique common on video games. You can use this for mirrors (planar reflection), light bouncing (irradiance grid) and general environment reflection (spherical reflection).
Why does the shadow in EEVEE look different than in Cycles?
EEVEE has no support for real soft shadow yet. Instead, it implements a filtered shadow. Although we would love to have smooth shadow calculation it's proven to be too big of a technical challenge for the time being.
Will we have Ambient Occlusion/Sheen/… in the Principled BSDF node?
Yes. Although some of this may be incorporated in the Output node instead. The Principled BSDF shader in EEVEE is still incomplete. We are aware of this and we aim at feature-completion for the promised Beta release after the Code Quest.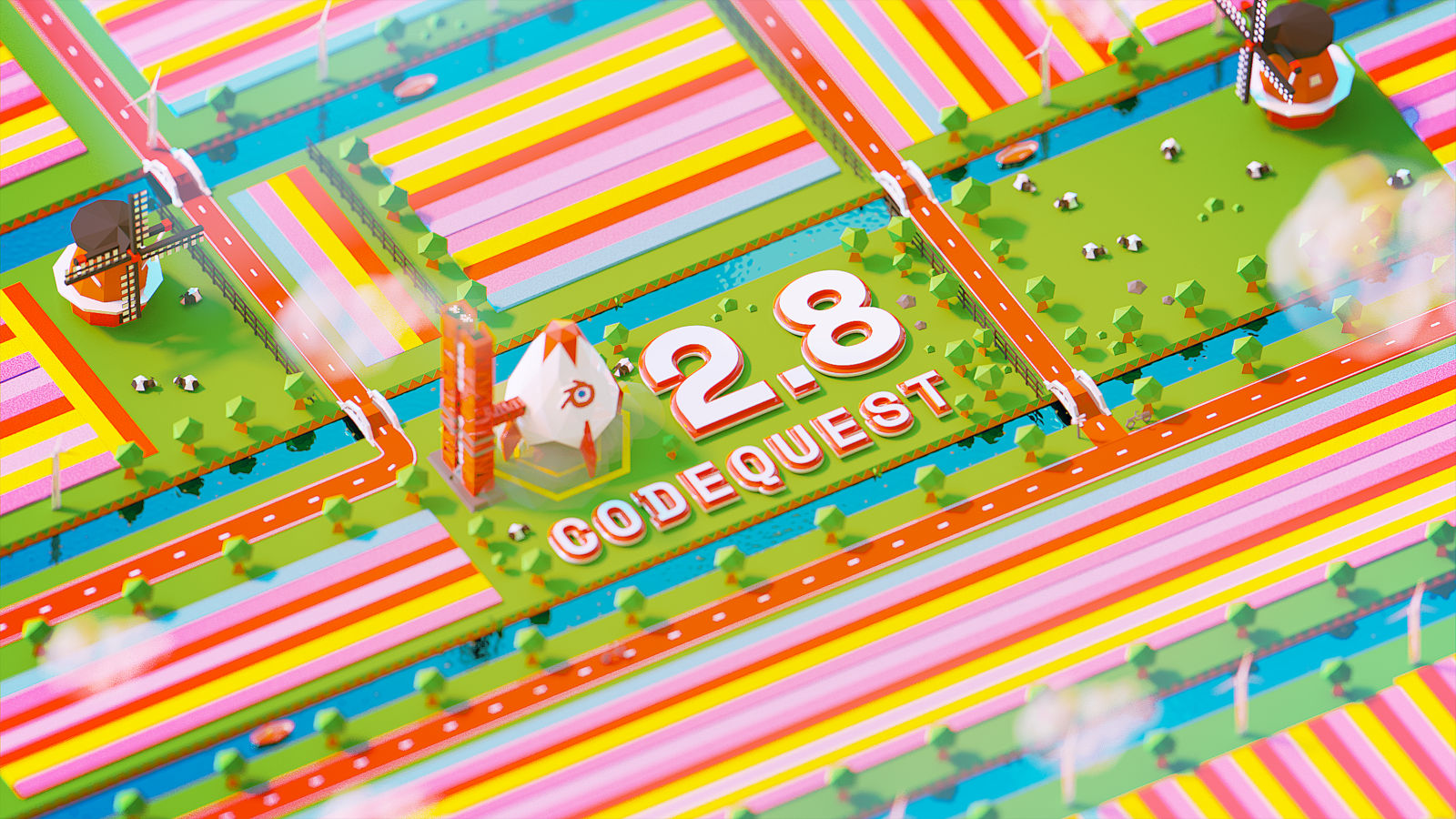 Is Blender 2.8 only about EEVEE?
Definitively not. Although EEVEE is currently in the spotlight there are plenty of other projects in the works to be excited about! Such as: new dependency graph, assets engine, view layers & collections, workspaces, application templates, 101 project, 2D animation with Grease Pencil, and much more. Follow the progress of Blender 2.8 in its dedicated website.
Can I try it?
Always! Daily builds are available on builder.blender.org. Remember, Blender 2.8 is under heavy development. Backup your files and don't save important data with it, as files might not be compatible with previous/future versions.
How can I help?
The easiest way is to support and follow the Code Quest. Developers and experienced artists are welcome to join the Blender 2.8 project in our usual channels. And if you think we missed anything, let us know in the comments so we can update this F.A.Q.