A few weeks ago (2-6 May), a workshop focused on the Video Sequence Editor was held. The main participants were Richard Antalík, Sergey Sharybin, Sebastian Parborg and myself. The main goal of the workshop was to review and confirm key design tasks as part of the VSE roadmap.

Francesco Siddi
Here is an overview of the topics discussed.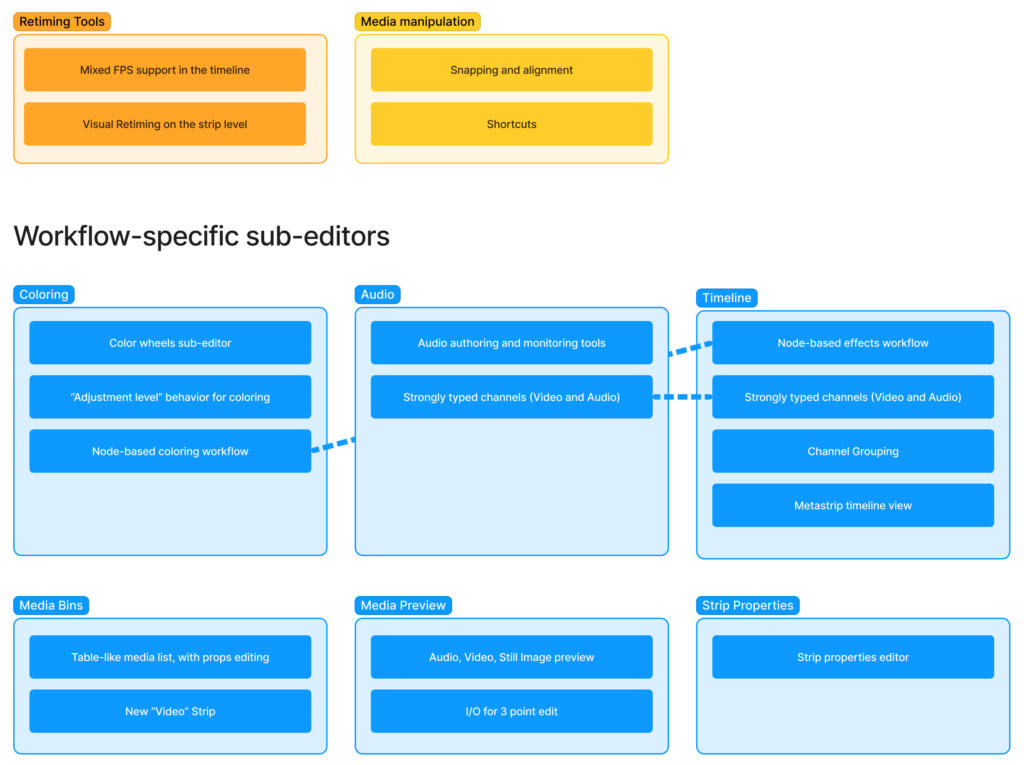 For several other ongoing topics (preview transforms, tilting, etc) help from the community is always welcome.
Retiming Tools
The currently ongoing –and highest priority– topic is "Retiming Tools". This relates to how Blender handles footage with a different frame rate from the current scene, as well as tools and settings to retime video strips. While this functionality is already available through the speed effect, the idea is to replace it with a strip-level property and drop the effect strip.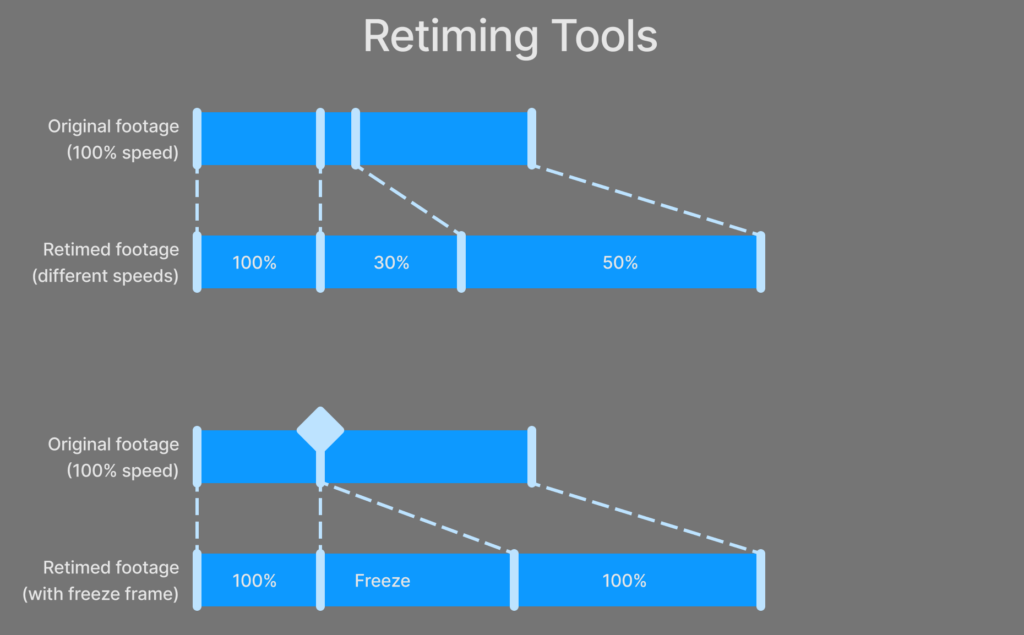 Manipulating the timing of a video strip should be visual, clearly showing when footage is being stretched (slow down), squashed (speed up) or frozen.
Media Manipulation
Recent Blender versions introduced media manipulation in the preview area, making it easier to quickly transform multiple video or image sources in the frame. Some more work is required to complete this effort, by introducing further shortcuts (for example to clear transforms or duplicating) and snapping. Community contributions are welcome!
---
Workflow-specific sub-editors
Most of the workshop's time was focused on reviewing and re-defining existing workflows, as well as envisioning brand new workflows that would help artists create and handle more complex projects.
Most of these workflows should happen in dedicated sub-editors.
Coloring
A dedicated editor, featuring quality color wheels, possibly with a horizontal layout should be introduced. This editor will allow a shot-by-shot "adjustment level" behavior, typical of the coloring stage. Adjustments can be combined, layered and masked through a node-based interface.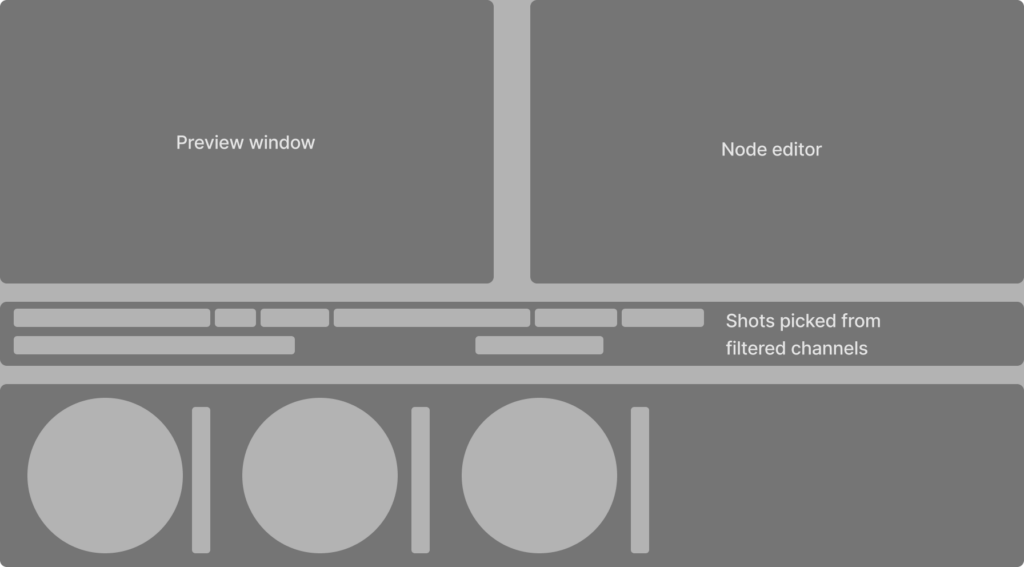 Audio, and Typed Channels
As experienced by the Blender Studio team, building complex multi-channel sound edits is quite limiting, because some authoring and monitoring tools are simply missing. The main examples are channel-wide automations and metering tools.
Introducing such features will likely require the introduction of a new concept in the VSE core design: Typed Channels. Typed channels will support either video level content (video, images, color adjustment) or audio (sound strips). Having typed channels allows the definition of tailored UI elements to perform tasks such as global, per track volume, effects and panning automation and monitoring volume levels through visual meters.
Sequencer Timeline
Next to the introduction of Typed Channels, further work is needed to extend the functionality of channels. For example, the introduction of an "active channel" will allow to channel-wide edit to strips as well as keyboard accessibility for muting, locking or tagging/grouping channels.
Channel grouping is also an important feature that will help manage large scale edits. For example, it should be possible to group related video or audio channels, and have different timeline layouts based on them. Groups should be considered more like tags, and not like a hierarchy.
Finally, a new metastrip view should be introduced. This allows viewing the content of a metastrip without losing context of the timeline.
Media Bins
Already on the roadmap for a while, the need for a dedicated list of media in an edit has been reconfirmed. This should be combined with the creation of a new "Video" strip, which would use as source a reference to the media list (instead of a file path). This allows for more accessible media management.
Previewing Media
A Media View sub-editor should be established, where to preview images, video and sound before inserting them into the timeline. This pattern is very common in video editing software, and it's a fundamental element of the 3-point-edit workflow.
Strip Properties
Finally, the topic of strip properties editing was discussed, focusing on the creation of a dedicated sub-editor for this task. This would provide a more spacious interface for editing strip properties, compared with what is currently possible in the properties sidebar of the VSE timeline. However, the topic of strip properties editing can also be solved in different ways (node-based editing, on-canvas editing, etc.) so this needs further investigation.
Design Principles
During the workshop all fundamental VSE principles were upheld, in particular:
Playback should always be realtime
All video editors should always be responsive and interactive
The VSE Timeline should be considered a canvas, giving video editors the freedom and flexibility on where to place strips
Conclusions
It was the first time for Richard visiting the Blender HQ, and it was the first time that a meeting focused on the future of the VSE was held. Overall a very useful experience, showing how much potential this set of editors still have. While a timeline has not been established, it's clear that these tasks will take months to complete. Contributions, feedback and comments on the above discussed topics are welcome!
Support the Future of Blender
Join the Development Fund and support Blender Foundation to work on core Blender development.