Dalai Felinto shares the design process for the new Geometry Nodes icon.
The Geometry Nodes project finally has its own icon:


---
The Previous Icon
It is not that Geometry Nodes had no icons. But it had no unique icon. Until now it was using the generic "Nodes" icon from Blender:

That icon wasn't widely used so we rolled with it and focused our energy elsewhere (namely making Geometry Nodes worthy of an icon of its own).
However this was the icon used already for the compositor and shader nodes Node Groups. And since the Asset Browser started to support node groups, this problem became more evident:

Nodes + Geometry
Which icon can describe a system that can create the unthinkable? The system supports meshes, but also curves, volumes, point cloud. It will be the base for the procedural part of the hair project.
We asked the community for help, and Andrzej Ambroz contributed an initial take on it: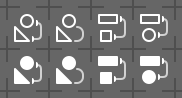 Andrzej is the mastermind behind the Blender icons, and his style and craftsmanship shows. Those icons fit right in place with the rest of the icons. However …
When you look at the other node editor icons, you can see that none of them depicts nodes. Here you can see them respectively:

They try to convey what is accomplished with the nodes, not the nodes themselves. We may have in the future Collection Nodes. How would they be visualized then? If you go in that direction we start to have icons that look too much alike and that quickly failed to work when reduced (icons here at 200%):

Same icons at 100%:

Pebbles
What if we could put this all aside and boldly seek something that resonates more closely with the project? Geometry Nodes was named as such after it pivoted from dynamic particles to point scattering.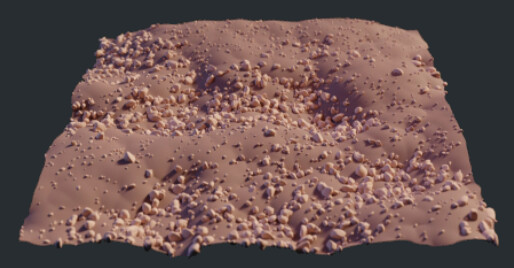 The initial use case was about being able to easily distribute points in a scene and instance pebbles on them. To this day this is the initial step often seen in complex node setups, and an essential step for the upcoming hair project.
Inspired by that I stretched my rusty design muscles, sketched some points in a white board, and came up with this:

. A bit too noisy, but simple and daring. I sent them over to Pablo (Vazquez) who sent them back with a few variations, removing some of the pebbles or moving them around:
A Detour
Falling in love with your first idea is one of the most dangerous traps in a creative process. No one is immune to this, and we have set to explore other ideas, some abstract, some more literal. Here are a few:
The flower with infinite petals series:
The bridge series:
The Final Icon
After all considered, we went back to the pebbles/points concept. It is simple, graphically pleasant, and it grew on us. Pablo and I worked on a final pass to get the icon to take a bit more of the available vertical space and there we have it:

Bonus
The whiteboard with the original draft (dark points surrounded by a green border), and many doodles also by Pablo and Francesco Siddi.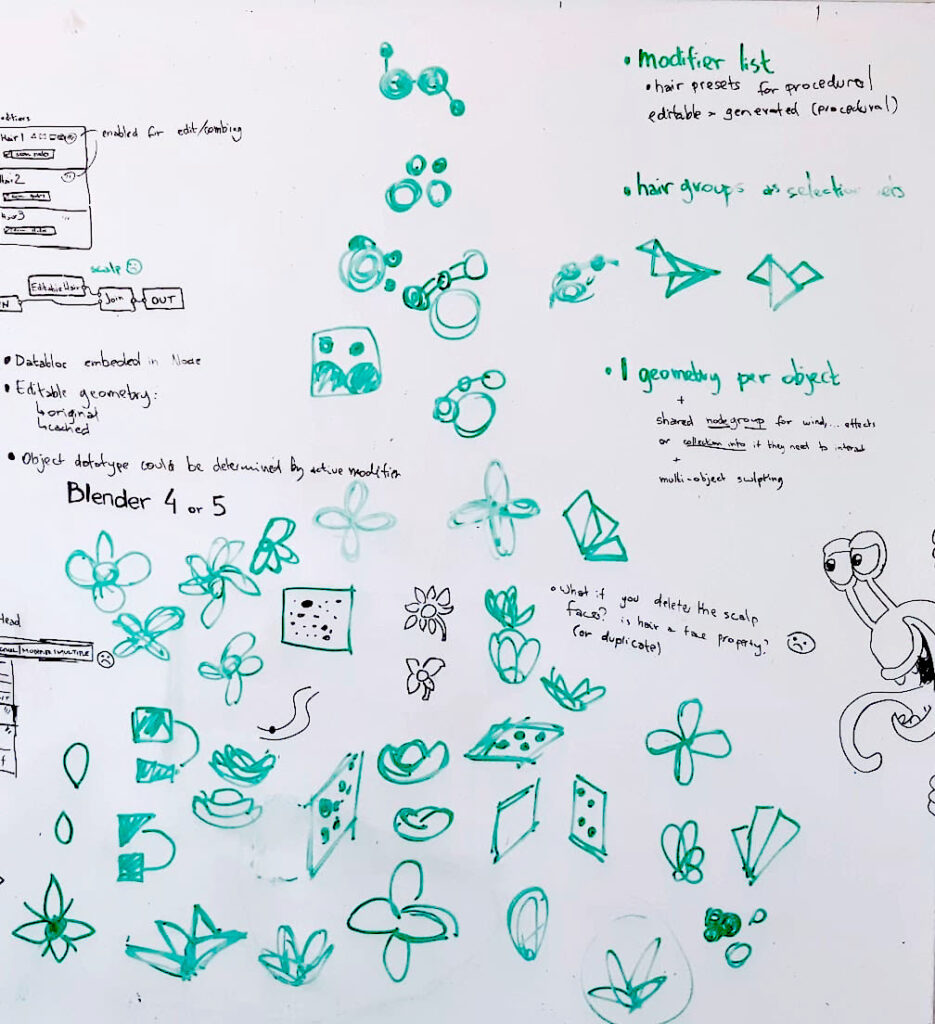 ---
Thanks to the community for the ideas and exploration. This was a fun experience to come up with a concept that the team feels connected to and that fits with the rest of Blender.
Let us know what you think about sharing this type of behind-the-scenes development process.
Dalai