February 2023 update: the release schedule has been restructured.
After evaluating the massive support for Blender 2.80 – and with the 2.8x release cycles running as planned – here is a proposal for the long term Blender release organization.
Blender LTS
The first proposal is to do one Long Term Support (LTS) release every year. This release would be supported for two years with important bug fixes and updates for new hardware, while strictly maintaining compatibility.
A good reason to do an LTS now is the focus on fixes and patches of the past months. The next release (2.83) although big, will be relatively less experimental, thus a good candidate to keep supporting for a while.
LTS versions also will help to ensure that a project that started with an LTS version can be completed with the same version in a reasonable amount of time. Nice for studios with large projects, but also for add-on maintenance.
A surprising amount of requests for LTS 'agreements' came from corporations who have more strict installation procedures internally – for various reasons they do not want individual employees to download our releases. An official LTS with controlled install would fit their procedures much better. We will further investigate this topic in the coming period.
For our daily testers and early adopters this is also good news. It means we will be able to more easily add experimental and new features in regular releases. Expect a continuous stream of new features and improvements. This rapid pace of releases is great to get new features to users quickly.
Release numbering
Along with this, I also propose to accelerate a bit our release numbers this decade.
This summer we'll do Blender 2.90 (new particle nodes), and in summer 2021 the Blender 3.0 series begins! By then we will implement a more conventional release numbering.
I suggest to do minor releases (3.0, 3.1, 3.2, … 3.7) for two-year periods, and then move to a new major release. Blender 4.0 could be there in 2023 already!
Below is a summary. Let us know in the comments below what you think!
---
Proposal: 1 LTS per year, major release cycles each 2 years
2.8 + 2.9 series wrap
Finish the original 2.8 targets and focus on polishing for the first two LTS.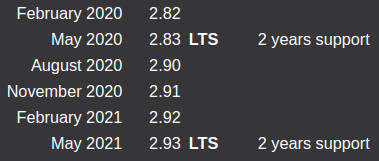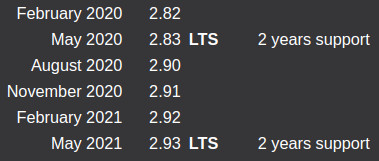 3.0 series
New numbering, after 21 years the Blender 2.x series gets a wrap!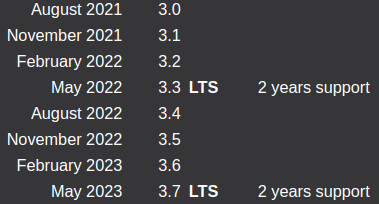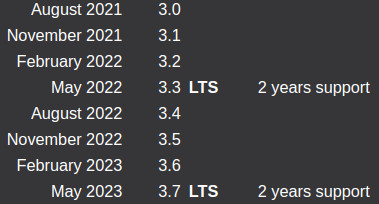 4.0 series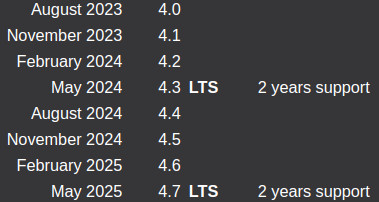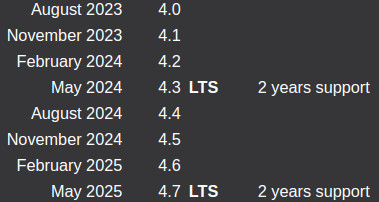 ---
Ton Roosendaal
Blender Foundation chairman