With the release of Blender 2.80, Grease Pencil is no longer a simple annotation tool, but a first-class citizen in Blender.
Over the years since the greasepencil-object branch was created, a number of issues started to arise. Some of the issues were the result of developing new features on top of the old 2.7x (and 2.6!) code, while others were related to how the draw-engine was designed time ago. A decision was taken to refactor the code to have solid foundations that would allow future growing.
It was clear that refactoring Blender's draw-engine would be a huge task. For great achievements you need great people, and luckily Clément Foucault (creator of EEVEE) got on board! The work Clément did really pushed Grease Pencil to the next level.
The list of improvements is huge, here is an attempt to list them all.
1. Draw Engine refactor
The most visible part of the refactor of Grease Pencil is the draw-engine. This doesn't refer to the drawing experience per-se, think of it as a render engine that takes care of displaying objects and overlays in the Viewport (and render output).
The previous draw-engine simply wasn't designed to handle a 2D object type like Grease Pencil.
1.1 General Improvements
It's impossible to list all the improvements, here are some of issues that have been solved:
All anti-aliasing problems.
Artifacts combining 3D objects with Strokes.
Color mixing.
Blend modes problems.
All macOS incompatibilities.
Innumerable bugs fixed.
All drawing shaders have been rewritten from scratch, as a result the image quality and performance has been greatly improved.
Some scenes play up to 100% faster, so more complex scenes can be built.
1.2 Color Management
Grease Pencil now follows Blender's color management and all the code has been updated to work in Scene Referred Linear color space.
Not only this means Grease Pencil objects will blend with the scene in a more natural way, but also Effect modifiers, blend modes and lighting accuracy also greatly benefit from this change.
1.3 Lighting
Previously, a way to simulate lighting was to use an Effect modifier type Light. It worked, but it wasn't a really good solution.
Thanks to the refactor, Grease Pencil objects are now lit by regular light objects. Responding to light color changes, opening a whole new world of possibilities for mixing 2D with 3D. Casting shadows is not yet supported, but it is planned .
1.4 New Mask system
Good masking is a must for any 2D software, Blender definitely needed to improve in this area. The previous mask system was very limited:
It always used all layers below.
Anti-aliasing and blend problems led to bad quality renders.
The new system allows you to combine masks, adding a lot of flexibility and it also looks much better thanks to the new draw-engine.
1.5 Improved Effects
The effect modifiers have been rewritten to improve quality and speed, while adding new functions to make them more flexible.
2. New Vertex Paint mode
Up until now, in order to have different colors a new material had to be reated for each color.
For simple scenes this was fine but for complex scenes the list of materials could grow a lot, sometimes unnecessarily, for example when the materials only slightly differ in color.
2.1 Vertex Colors
Using Vertex Colors allows you to keep a small list of materials, but have infinite colors!
Additionally, you can now have a stroke with multiple colors! This was impossible before as strokes were limited to one color per stroke. It's also compatible with Textured Brushes so the possibilities are even greater.
This new mode is accompanied by a set of tools to improve the drawing feeling, making the artistic creation process feel more natural and familiar with other 2D painting software.
2.2 Palette Improvements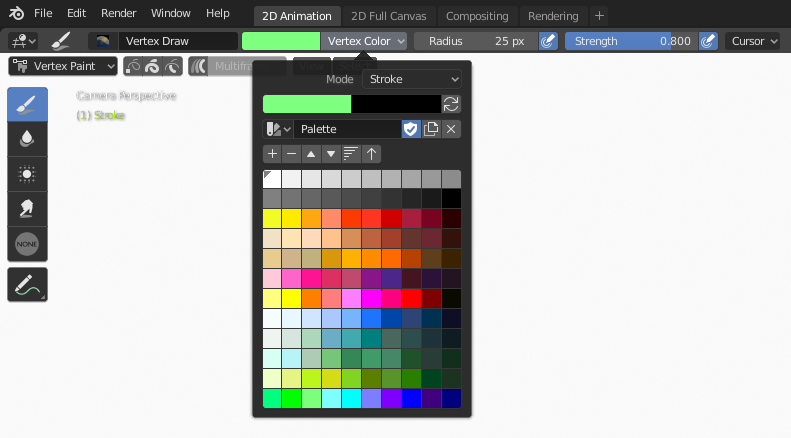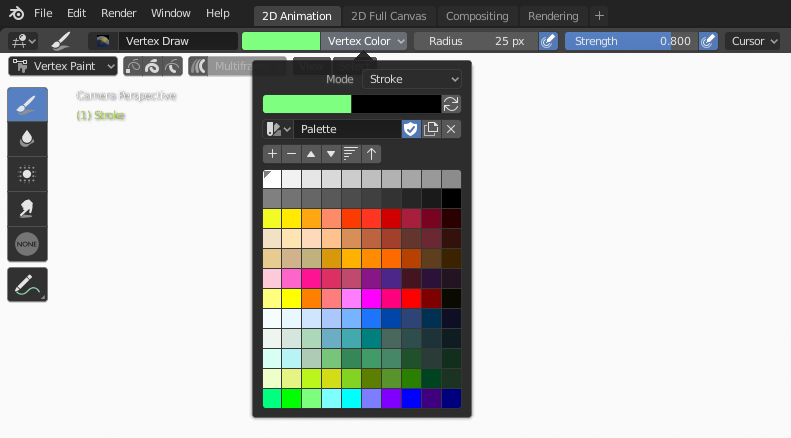 With color freedom comes the need to store palettes. Blender already had built-in support for palettes, but feature wise they were a bit limited.
The following improvements were done:
New default palette.
Extract Palette from an image or Grease Pencil object.
Convert materials to Vertex Colors.
Add-on to import palettes from Krita, GIMP, or Adobe Photoshop.
Improved UI for easier use.
3. Performance
The goal of the refactor was not only to improve Grease Pencil at a visual level, but to modernize the code under the hood for better playback speed and memory usage. Blender can now handle heavier scenes with the same hardware.
3.1 Faster Data Evaluation == Higher FPS
During the refactor, some issues were detected in the old implementation of the internal structures and how data was handled.
The code in charge of updating data while playback and modifiers evaluation has been rewritten from scratch to improve scrubbing and provide a better experience during animation.
Some of the changes include:
Faster overall playback speed and scrubbing.
Faster start of the first playback.
Better integration with the Dependency Graph.
Better memory management.
Better modifiers evaluation.
Better handling of multiple instances.
Faster response using brushes with multi-frame in complex scenes.
Lots of code cleanups and smaller improvements.
3.2 Smoother Drawing of Fast Strokes
While drawing, you often do very fast hand gestures. On Linux this was not a problem, but on Windows there were some really bad artifacts.
Improving the feeling of drawing and the quality of the brushes further is a never-ending task, and it is top priority for future releases.
3.3 Stroke Quality
The artifacts when drawing hard angles are now solved thanks to new shaders, resulting in smooth lines even in the tightest strokes.
4. Sculpt & Weight Paint Tools Become Brushes
Since Grease Pencil started as a simple annotation tool back in 2.4, when features like sculpt and weight paint were added to Grease Pencil they were kind of hack to simulate that behavior rather than real tools.
With this refactor, Sculpt and Weight Paint are now real brushes. You can now link/append them just like regular brushes. They have been rewritten from scratch to improve response in complex scenes, especially when using multi-frame editing.
In Weight Paint, the painting process works the same as with meshes. The actual weight is blended with the brush weight.
5. Converting Old Files
At the beginning of the refactor analysis, there was one important design question to answer:
"Should we keep old hacks in order to support old files or should we remove them all and create a good foundation for the future?"
The answer of the team was unanimous: "off with the hacks, let's plan for a better future!".
When you load a file, Blender tries its best to convert missing settings/features to their new equivalent (e.g. 2.7 Groups → 2.8 Collections). But sometimes there isn't a one to one equivalent, especially if the feature has been replaced completely. In the new system, for example, the Light Effect modifier is replaced by light objects, this case needs to be handled manually.
There will be documentation available to handle the special cases where it's impossible to automate conversion. These cases are very limited and usually can be done within a few minutes, this is a small inconvenience that will be worth it in exchange for the great improvements introduced, knowing we have a solid foundation to grow in the future.
Where to Find It?
The (massive) branch is currently under review on developer.blender.org. The review process can take from days to weeks, but it's targeted to be part of Blender 2.83.
Thank You
This refactor is the result of months of hard work that we hope will lead to improve the artist's workflow. Thanks to the community for their incredible support, showing what is possible to do when you put creativity first, pushing the boundaries of 2D in a 3D space.
This is just one more step (although an essential one!) of the many planned for the future, to keep the Grease Pencil project moving forward.
Finally, thanks to all members of Grease Pencil team for their hard work and especially to Daniel Martinez Lara, Matias Mendiola, Pablo Vázquez and to Clément Foucault for his amazing work that helped us so much in this insane refactor.
Antonio Vázquez
Grease Pencil project coordinator
Artwork credits: