Earlier this year, Blender chairman Ton Roosendaal published a roadmap mentioning a need to investigate useful ways Blender could connect to the Internet. One of the key features was to have a way to automatically get updates for Blender add-ons. This document dives deeper into that topic.
A necessary stepping stone to get the latest Blender add-ons without having to leave Blender, is having a public listing of quality add-ons, backed and maintained by the Blender community. This, we propose, will become possible on the new Blender Extensions (BE) platform, to live at extensions.blender.org.
---
Purpose
The purpose of BE is to serve Blender users, helping them discover and download add-ons, themes, keymaps and asset libraries, entirely within the Free and Open Source spirit.
BE will only offer GNU GPL compliant software, or CC-BY–SA compatible content. No commercialization will happen in the platform. It aims to be attractive for artists and add-on developers to freely share their work on blender.org, even if they choose to be using third-party services such as Gumroad, Blender Market, or Patreon to generate revenues with the same or similar extensions. Read about that in the Add-on Policies section below.
Whenever the word "extension" is used in this document, one of the following is implied:
As we define the roadmap for the platform's prototype, we will focus on the add-on extension type, as it provides the most comprehensive range of features and requirements which can then be applied to other extension types.
This proposal has been reviewed by several stakeholders, including the people behind similar independent initiatives such as Blender Market and Poly Haven.
---
Roadmap
Blender Extensions could be split into the following milestones, each of which requires designing and implementing a particular set of features:
Users should be able to discover, download and rate various add-ons.
Developers should be able to upload, version and manage their add-ons, as well as to have a way to openly communicate with their users.
A team of reviewers from the Blender community should be able to help Blender Foundation staff with the task of maintaining overall quality and trustworthiness of listed add-ons.
Blender itself should be able to access the add-ons listing via an API, making it easier to browse, install and upgrade add-ons.
Each milestone is framed from the point of view of its stakeholders, such as Blender users in the first one, developers of the extensions in the second one and Blender staff and reviewers in the third one.
We will consider the fourth milestone out of scope for the moment. Blender using the extensions listing on its own is something that is planned for the future and should be kept in mind, but it is not the focus of this article.
---
Public Listing
An add-on listing is a web-page at extensions.blender.org/add-ons/awesome-add-on/ with a description of add-on functionality and a way to download the latest version of it.
Depending on the extension type, the URL changes, e.g. a theme would be located at extensions.blender.org/themes/awesome-theme/.
Each listing item should feature:
Unique name (also used to generate the URL)
Comprehensive description and screenshots
Supported Blender versions and license
Download link for the latest version (and previously uploaded as well)
Links to the (external) documentation and issue tracker
Category/tags of the add-on
Rating and reviews
Ways to report abuse
To certain types of extensions, such as keymaps and themes, some of the above mentioned information isn't applicable.
Supported Blender versions
In case of an add-on, the lowest compatible version could be parsed out of the add-on's info (such as __init__.py) and the highest compatible version could be indicated by the extension developer manually.
---
Uploading a New Add-on
To create a new add-on page on the Blender Extensions platform one needs to upload an archive (.zip/.tar.gz) containing the add-on files.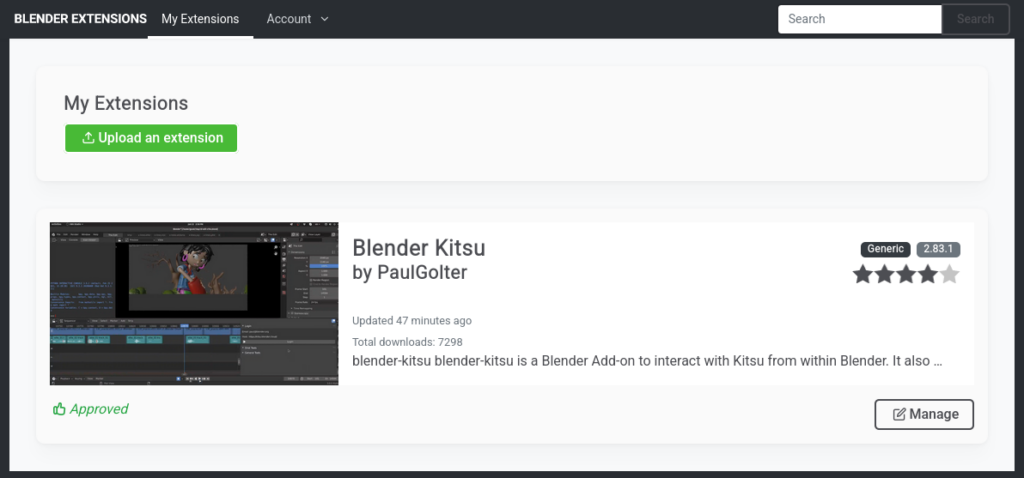 Depending on the type of the extension uploaded, some background processing is done before a listing is created, for example:
In case of add-ons, the most important part of the archive (besides the functional code) is the __init__.py file containing add-on's metadata, which is parsed and used to create the listing and the first version of the add-on.
In case of a theme, a preview is generated based on the theme's XML.
The slug used in the listing's URL is generated from the extension's name and must be unique in combination with the extension type. The slug can never be reused even if the previously uploaded extension using it gets deleted.
The process of updating an add-on is still being investigated (feel free to share ideas!) and will be documented later.
---
Review Process
It's vital for an extensions platform to be designed as a healthy and trustworthy ecosystem. This means having a clear set of acceptable practices and review guidelines. Blender Foundation will establish and support a group of reviewers to manage and guide the process. Here is a proposal for the core policies for add-ons.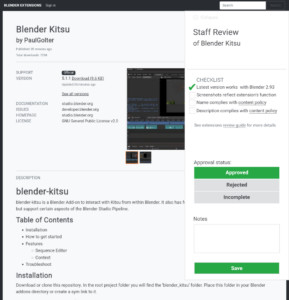 ---
Add-on Policies
No Surprises
The add-on must have an easy-to-read description mentioning everything it does. It must be abundantly clear from the extension's listing what functionality it offers, and Blender users should not be presented with unexpected experiences when they download and install the extension.
Content
Extension listings must comply with Blender services conditions of use (to be published) stating one may not use Blender's web services to do anything illegal, threaten, harass, harm, defraud etc.
Extensions offered on blender.org should be fully functional, documented and actively maintained products.
Extensions should not require any external functional components that need to be downloaded from elsewhere.
Extensions that (need to) connect to internet services outside of blender.org, should offer access to these sites without additional restrictions (such as login or registration, paywalls, etc).
If the extension is a fork of another extension, the name must clearly distinguish it from the original and provide a significant difference in functionality and/or code.
Extensions that are intended for internal or private use, are only accessible to a closed user group, or for distribution testing, may not be listed on the platform.
Linking to external funding platforms in the description is allowed. It is not allowed to have additional requirements (such as registration, payments or keys) blocking functionality of the extension. (Alternative clause: The extension description must disclose if/when payment is required to access any of its functionality).
Acceptable code practices
Extension code must be reviewable (obfuscated code or bytecode is not allowed. How to evaluate binaries is still an open question).
Extension must be self-contained and not load remote code for execution.
Extension must not send data to any remote locations without explicit authorization from the user.
Extension should avoid including redundant code or files.
Extension must not negatively impact performance or stability of Blender.
Extension's code must be compliant with https://wiki.blender.org/wiki/Process/Addons/Guidelines
API Specifications
We will consider the extensions API out of scope for the moment: Blender using the extensions listing on its own is something that is planned for the future and should be kept in mind, but this document focuses on the first three milestones of the roadmap.
Current Implementation
The work-in-progress implementation is available at developer.blender.org.
The project is currently led by Anna Sirota with the support of the Blender web team (Francesco Siddi, Pablo Vazquez). This work draws inspiration from the multitude of extensions and app stores available online, as well as various package managers. In particular, the Mozilla Extensions website has been used as reference for the architecture.
---
Conclusions
Feedback on what was presented in this article is welcome, in particular regarding the process of reviewing content submissions, content versioning and listing.