During the development of Blender 2.8, the release cycle was formalized into a 4-releases per year schedule, with one of the releases offering long-term support (Blender LTS).
While having many releases in a year allows for quick iteration and progressive improvements, based on the experience from developers and users following this schedule over the past years, we propose to reduce the number of releases to 3 per year (one of them being LTS).
Each release comes with overhead such as documentation (manual, API), release notes (web and video), coordinating the actual builds and tests, overlapping development phases (Bcon3/Bcon1). Having one fewer release — and potential corrective releases — each year will reduce this overhead, while new features and improvements won't have to wait too long to make it into a release.
New Release Schedule
The proposed schedule extends the Bcon1 (new features/big changes) and Bcon2 (improve and stabilize) phases, and better aligns with annual events (e.g. SIGGRAPH, Blender Conference) and holiday periods.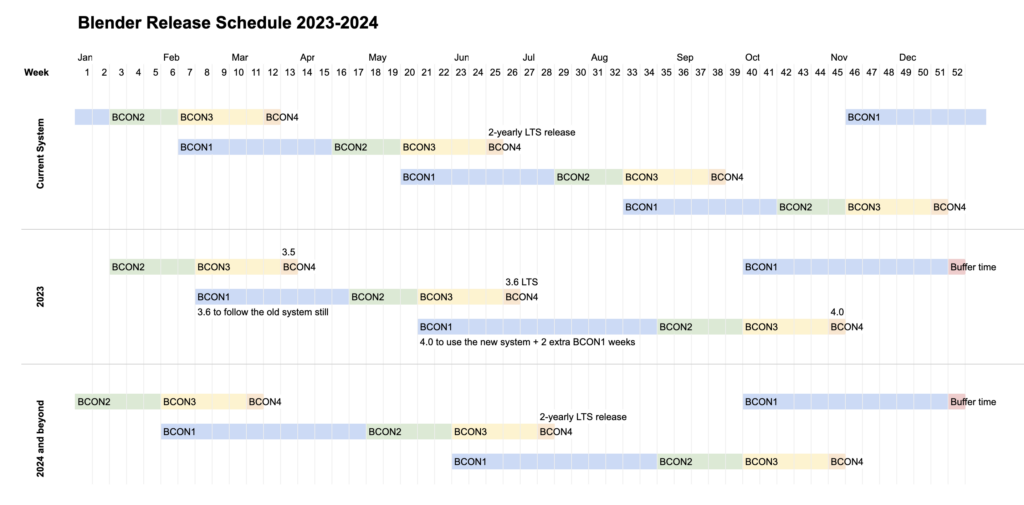 In order to get into the new release schedule, 2023 will be used as a transition period:
Blender 3.5 continues unchanged, release expected at the end of March.
Blender 3.6 follows the old schedule, becomes LTS. To be released in July, with support until July 2025.
Blender 3.7 is skipped.
Blender 4.0 follows the new schedule, and adds two extra weeks of Bcon1 to allow for bigger changes, expected to be released in late November.
The goal is to have:
A new LTS release every year, supported for two years (just as it is currently, but released around the same time of the year).
A major version and breaking release every 2 years (3.0, 4.0, 5.0…).
We hope this new schedule will give developers more time to code, users more time to test, and ease the maintenance of tools by studio TDs and add-on developers.