Texturing is one of the strategic targets for 2022. The first part of the project involves upgrading 3D texture painting performance, quality and tools, and is planned to be worked on in the coming months.
The second part of the project is a new procedural and layered system to create textures, aimed at PBR shading. That part of the project will start later this year, and we are sharing the initial design now for feedback from the community.
---
Texture Datablock
The design revolves around a redesigned Texture datablock. This datablock contains texture nodes and a list of channels it outputs.
A typical set of channels for PBR shading are base color, roughness, metallic and normal map. The system is not limited to that, and arbitrary outputs are possible for different types of BSDFs or use in other contexts like brushes and geometry nodes.
Texture Layers
The texture properties for a texture datablock show a texture layer stack. Procedural textures layers can be dropped in from the asset browser, and new image or attribute layers can be created to be hand painted.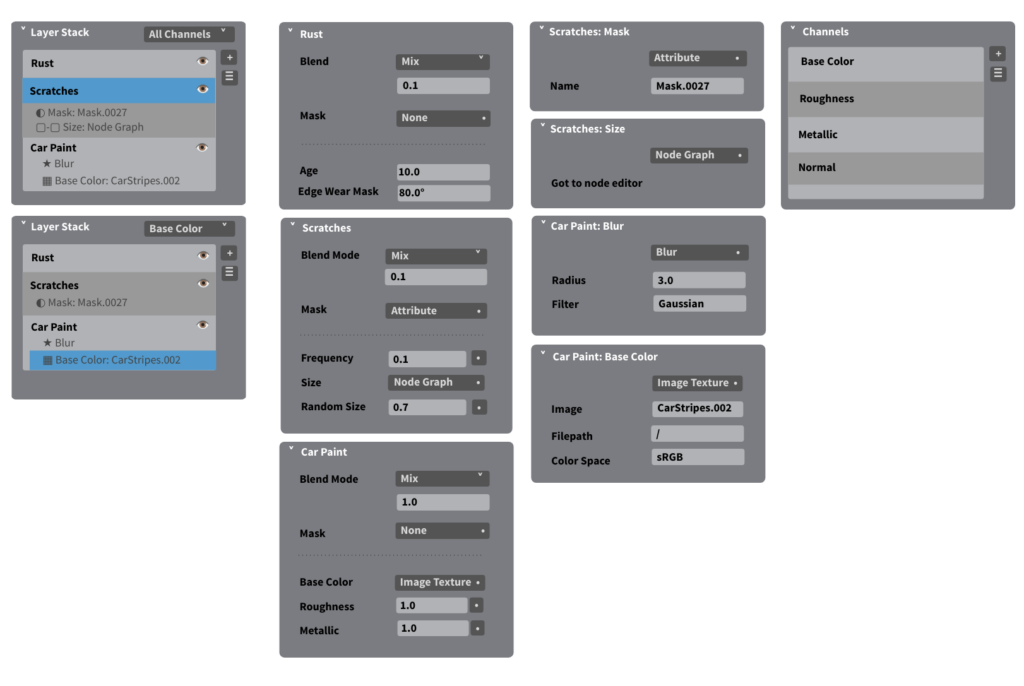 Layers work similar to typical 2D image editing applications. Blend modes, masks, reordering, hiding, merging, and modifiers would be supported. Selecting an image texture or color attribute would enable painting on it in the 3D viewport.
A difference is that each layer consists of all the channels defined for the texture (or a subset). Blending, masks and modifiers simultaneously affect all channels in a layer.
Texture Nodes
The texture layer stack corresponds to a node graph, and the node editor provides an alternative view to edit the same texture. This can be used to create more complex node setups that can't be expressed in a stack.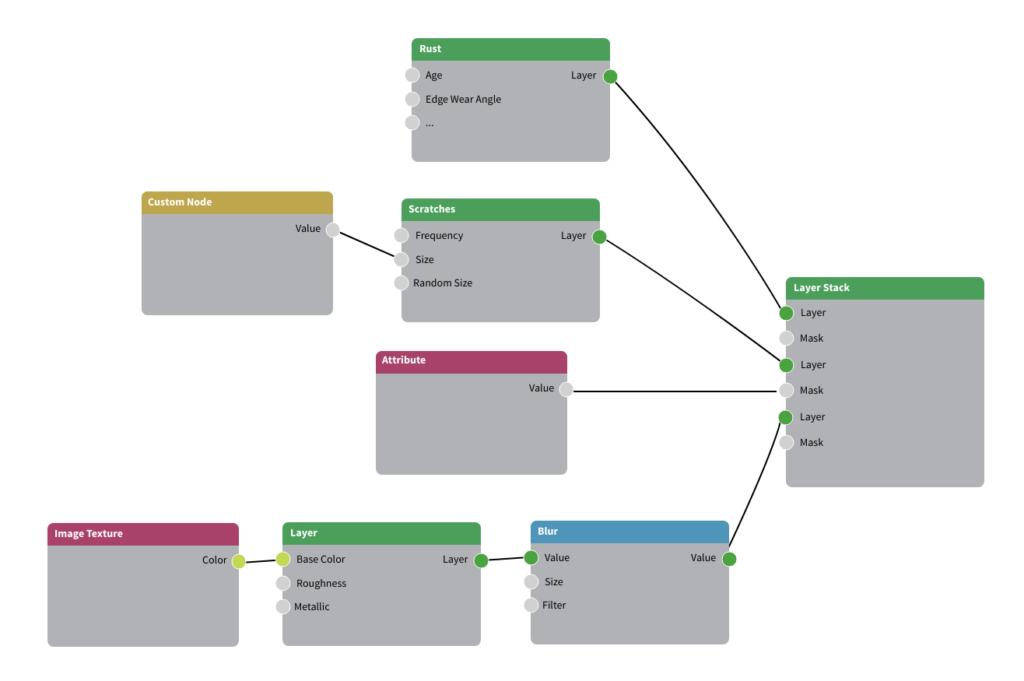 The new texture nodes are mostly shared with shader nodes. New additions are layering nodes, and nodes for effects that are not practical at render time.
The set of available nodes would be:
Common nodes like Math, Mix, Image Texture, Noise Texture
Shader nodes like Geometry, Texture Coordinate, Attribute
Texture specific nodes like Blur, Filter
Layer node to bundle multiple channels together into a layer
Layer Stack node to combine layers
Texture node to link in an existing texture datablock asset
There is a new layer socket type that combines multiple channels. Nodes like Mix and Blur work on multiple socket types, including layer sockets where they perform the same operation on all channels.
Baking
While textures can be fully procedural, baking is an important part of this design for multiple reasons.
Exporting PBR textures to a game engine. There would be a workflow to quickly bake all relevant texture channels down to image textures easily.
For textures with many layers, baking is important for efficient rendering in Cycles and Eevee.
Some nodes like Blur, Filter and others require baking to work at all, as they can not be implemented efficiently or at all in renderers.
Baking procedural texture layers into an image texture or color attribute to continue hand painting.
There should be an easy way to bake all textures in a scene, for users as well as exporters and renderers that need them.
Materials
Using texture channels in a material is done by adding a Texture Channels node that outputs all the channels of a texture, and linking those channels to the corresponding Principled BSDF inputs. Most of the time such node setups are automatically setup as part of a default material.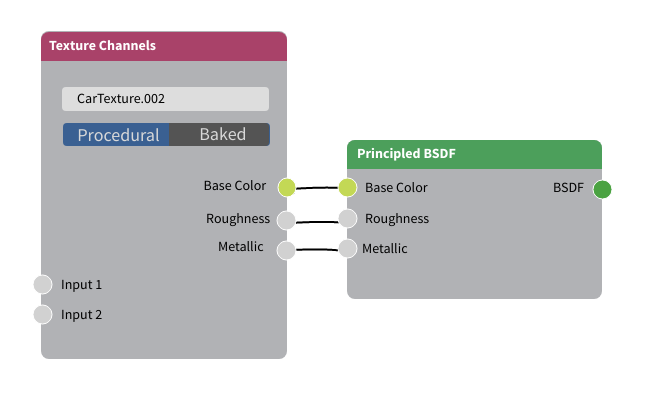 The Texture Channels node has the following settings:
Node inputs, created in texture nodes with a Group Input node (similar to geometry nodes). This makes textures customizable with parameters, attribute names or image textures.
Option to evaluate the texture channels Procedural or Baked.
If Baked, a link to one Image datablock that channels are baked to.
Baked Images
The Image datablock would be extended to contain a set of texture channels. With multilayer OpenEXR files this comes naturally, all texture channels are saved in a single file similar to render passes. For other file formats there is a different filename for each texture channel, or multiple texture channels are packed together into RGBA channels of fewer files, as is common for games.
When showing an Image datablock in the image editor, a menu lets you flip through the texture channels, exactly like render layers and passes.
Baking multiple meshes or materials into a single image becomes straightforward. Link the same Image datablock to the Texture Channels node in all materials, and Blender automatically bakes everything together, assuming the UV maps are non-overlapping.
Assets
Texture datablocks are available in the asset browser for easy dropping into the texture layer stack. Blender would ship with a library of procedural textures that can be used for quickly creating materials.
One complexity in the design is that texture datablocks are aimed at multiple use cases, including different types of materials, sculpt or texture brushes, geometry nodes, or compositing. For this we need some method of filtering textures for the current task.
In the context of a PBR workflow, materials and textures are almost the same thing. In such cases having both a list of material and texture assets seems redundant. However in Blender we need to accommodate more workflows, and so we likely can't hide this distinction from users.
---
Feedback
This is an ambitious design that affects many areas of Blender. We welcome feedback and ideas to improve it. There is a topic for design discussion on devtalk.
A few questions we are thinking about:
Is making a single texture datablock for many uses a good idea? Or does it make the workflow too fuzzy? Is there a better alternative? If not, how would filtering relevant texture assets work exactly?
Are there better ways to integrate textures into materials than through a node? Is it worth having a type of material that uses a texture datablock directly and has no nodes at all, and potentially even embeds the texture nodes so there is no separate datablock?
With this system, the users can now do the same thing both in texture and shader nodes. How does a user decide to pick one or the other, is there anything that can be done to guide this?
What is a good baking workflow in a scene with potentially many objects with many texture layers? In a dedicated texturing application there is a clear export step, but how can we make a good workflow in Blender where users must know to bake textures before moving on to the next object?
Some textures can remain procedural while others must be baked to work at all. How can we communicate this well to users? Is it a matter of having a Procedural / Baked switch on textures that can be manually controlled, or is there more to it?
How do we define what a modifier is in the layer stack? Conceptually this can just be any texture node that has a layer input and output, but how do we find a set of such nodes and node groups that work well in a higher level UI? Possibly some asset metadata on node groups?
Can we improve on the name of the Texture datablock or the new planned nodes?
Support the Future of Blender
Join the Development Fund and support Blender Foundation to work on core Blender development.